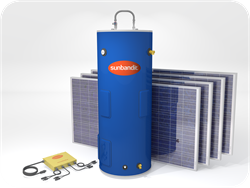 Sun Bandit's patented 'wire to water' technology offers Californians a new breed of simplified, aesthetically-superior solar water heating and storage solution with multiple back-up capabilities.
Lafayette, CO (PRWEB) August 23, 2017
PV-powered solar water heating and storage innovation Sun Bandit by Next Generation Energy has qualified for the new, higher incentives associated with the California Solar Initiative (CSI) Solar Thermal Rebate Program.
Close to $109 million in incentives is currently available to drive solar adoption: $92.6 million for general market, natural gas-displacing projects and $16.3 million for qualifying low-income single family and multi-family projects.
The aim is to help California 1) reduce the carbon emissions that come from fossil fuel-fed power plants, 2) increase solar savings for businesses and consumers 3) and create jobs for contractors and energy professionals throughout the state.
CSI officials say Californians can slash their water heating bills by up to 75% using solar technology. CSI's Solar Thermal Program offers cash rebates of up to $4,366 on solar water heating systems for single family residential customers. Multi-family and commercial properties qualify for rebates of up to $800,000. The incentives are in most instances combinable with a 30% federal Investment Tax Credit (ITC*), which can cumulatively reduce up to 75% of system purchase and installation costs.
Rebates are processed through CSI program administrators covering four distinct California areas: the Center for Sustainable Energy in the San Diego Gas & Electric (SDG&E) service territory; [Pacific Gas and Electric (PG&E), who serves 5.2 million households and businesses in the northern two-thirds of California; Southern California Gas Company and Southern California Edison (SCE).
Incentives are calculated based on a variety of factors, including system size, climate zone, azimuth, tilt, system back-up and annual average access. Use this CSI Incentive Calculator to determine your potential solar savings with a Next Generation Energy Sun Bandit solution.
"California is not only a global solar leader, but a hotbed of global technology innovation," said Sun Bandit parent Next Generation Energy's COO Lori Beedon. "CSI's recognition of Sun Bandit's patented 'wire to water' technology offers Californians a new breed of simplified, aesthetically-superior solar water heating and storage solution with multiple storage and back-up capabilities. And Sun Bandit eliminates the mechanical and freezing issues that have plagued old-school solar thermal for decades. Sun Bandit's qualifying for CSI rebates affords businesses and consumers a menu of fresh new options to accelerate solar water heating adoption in the Golden State," Beedon said.
To learn more about Sun Bandit training, distribution and sales opportunities, click here or call 1-877-NGE-4SUN (1-877-643-4786).
About Next Generation Energy's Sun Bandit®: Sun Bandit is a trademark-registered, patented product innovation of Colorado-based Next Generation Energy (NGE®), whose expertise in PV, solar thermal and off-grid system design and engineering have been delivering high-performing, money-saving renewable energy solutions to commercial, utility-scale, governmental, individual and multi-family housing interests for over 30 years. Learn more by calling 877-NGE-4SUN – or visit http://www.ngeus.com. Find Sun Bandit at http://www.sunbandit.us.
*Rebates vary from state to state. Check with a qualified professional to confirm the availability and compatibility of local, state and federal incentives in your area.