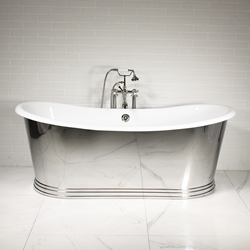 The Penhaglion Step Base has arrived and the demand for it is strong
Saint Petersburg, Florida (PRWEB) June 27, 2017
Penhaglion, Inc. manufactures specialized and beautiful clawfoot as well as skirted cast iron bathtubs. The makers at Penhaglion are excited to share their latest summer release, new tubs fitted with the exclusive "Penhaglion Step" base.
"The three steps in the new design are seamlessly welded to the base of the skirt," notes Richard Myers, General Manager. "So far, we have had a great response to the new design and are so excited to have these new models on the market."
Most of Penhaglion's cast iron bath tubs can be equipped with air jets, and can be in stainless steel, steel, solid copper, or solid brass skirts. The skirt exterior finishes vary from mirror polished, burnished, and the very popular aged chrome. The makers at Penhaglion are happy to help bring your dream bathtub ideas to life!
Both the tub interior and exterior are always hand finished, so no surface is perfectly flat or 100% even. Each Penhaglion Hand Finished tub is one of a kind and will being timeless character to the buyer's bathroom.
With their production facility in St. Petersburg, Florida now fully operational, Penhaglion has additional plans to offer more exciting new designs throughout 2017.
Please contact Penhaglion Inc. for questions or interest in this beautiful new tub model.
About Penhaglion Inc.:
Penhaglion, Inc. manufactures specialized, exclusive, and beautiful clawfoot and skirted cast iron bathtubs. Wide selections of luxurious Skirted Cast Iron Clawfoot Bathtubs at the most competitive prices are available at http://www.penhaglion.com. The luxurious appearance combined with a practical function has made claw foot tubs timeless. If you are looking for a beautiful clawfoot tub from a company with an exceptional industry reputation and uncommon quality, look no further than Penhaglion, Inc.