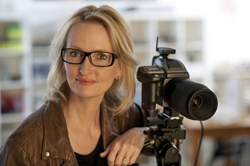 One of the most important things for photographers is to find their message that sets them apart.
Atlanta, GA (PRWEB) March 12, 2017
Professional Photographers of America (PPA), the largest association representing working photographers, is announcing the release of a new series of PhotoVision videos featuring Anne Geddes as a contributor for its 2017 "Year of Inspiration". The first video, "You as an Artist", is available now and new episodes with Anne Geddes will be released semi-monthly throughout the year. The PhotoVision programs are served through online streaming subscriptions and are available to photographers who are members of PPA at no additional cost, as this service comes included with their membership. Non-members can take advantage of a discounted, limited-time subscription rate of $49 annually (regularly $19.99 per month) using the promo code "PPA49" at checkout.
Photographers can tap into hundreds of videos on PhotoVisionVideo.com to learn about everything from lighting and posing to business topics such as marketing and sales, as well as studio design. Each episode expands and strengthens the professional photography industry as a whole, adding to PPA's mission to do the same. "PhotoVision gives photographers such a wealth of information. It's real-world knowledge presented by talented photographers who've proven themselves to be great business people as well," said Angela Kurkian, PPA's Director of Education. "PhotoVision strengthens photographers who want to learn and helps them grow in their profession. It is an amazing resource and, of course, incredible that we have the amazing Anne Geddes as one of our instructors this year."
For decades, Anne Geddes has been one of the most famous photographers in the world, thanks to her instantly recognizable newborn and child photography. Geddes is drawn to the art of storytelling through images--more specifically, children and the world they are revealing through their images. "One of the most important things for photographers is to find their message that sets them apart," she says. Geddes believes it's the mission of photographers to "help the world see in a different way" and PhotoVision lines up with her mission, aiming to inspire new and veteran photographers alike.
Geddes is currently working on releasing a new book, Baby, Look at You Now!, which will feature then-and-now photographs of her iconic subjects from 20 years ago. During this busy year, Geddes will also be leading PhotoVision viewers through several episodes in this year's new series on topics such as:

What it means to be creative for a photographer
How to produce meaningful photography work
Being authentic and of service to your chosen photographic subject matter
Advice to those getting started in the photography business
A photographer's evolution as an artist
Photographers being true to themselves living a creative life
2017's "Year of Inspiration" also includes brand-new videos with world-renowned photographer Sue Bryce. The PhotoVision library additionally includes tutorials from highly sought-after working photographers such as Gary Hughes, M.Photog.Cr., CPP, Amy Doerring, John Pyle, Melanie Anderson, Cr.Photog., CPP, Jamie Hayes, M.Photog.Cr., CPP, ABI, API, Mary Fisk-Taylor, M.Photog.Cr., CPP, ABI, API, Jen Hillenga, M.Photog.Cr. and several more of the top photographers in their fields.
PhotoVision broadens PPA's education offerings through cinematic quality video tutorials. Together, they offer photographers more than 800 educational videos. PPA members also have unlimited access to a photographers-only online community, sales and marketing tools developed exclusively for photographers, and online courses to hone skills from creative techniques to running a sustainable photography business. Through PPA's long-standing and established Degree and Certification programs, photographers can also earn official degrees and accreditation.
About PPA:
Professional Photographers of America (PPA) is the largest international nonprofit association created by professional photographers, for professional photographers. Almost as long-lived as photography itself, PPA's roots date back to 1869. It assists nearly 30,000 members through protection, education and resources for their continued success. See how PPA helps photographers be more at PPA.com/BeMore.