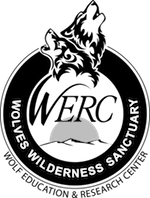 Wolf Camp is open each year between Memorial and Labor Day weekends.
Winchester, Idaho (PRWEB) May 31, 2017
For the past 21 years, thousands of curious people have been driving up Forest Road near Winchester, Idaho with the hopes of seeing a wolf on a beautiful 300 acre wilderness sanctuary known as Wolf Camp.
"Wolf Camp is a unique place," describes organization President Chris Anderson, "We have miles of trails that weave in and out of the forest and meadow where visitors can connect with nature in a profound way. Our history is deeply rooted in education about wolves. Our goal is that people leave with a better understanding of wolf ecology and biology when they leave. Science is hard to argue. Seeing a wolf is a deeply moving experience, whether wild or in captivity."
The Wolf Education and Research Center also presents programs twice weekly at nearby Winchester Lake State Park where campers and visitors can hear from staff who show movies and hold discussions about the species. Two of the movies are their very own, The Great Wolf Divide and The Great Predator Debate, films that describe the history of wolves and other carnivores, how they are managed, protected, and understood by the public.
The Wolf Education and Research Center is open daily from 9 am to 5 pm and by reservation. More information can be found by calling 888-422-1110 or visiting http://www.wolfcenter.org.