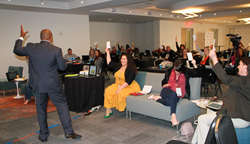 "It's less about bringing a lot of influencers together so we can influence each other and more about bringing together a community, so that we can share, have conversation, and really actually learn from each other." Becky McCray
Tulsa, OK (PRWEB) February 22, 2017
"There has never been a better time to be a successful business," says Cheryl Lawson, founder of Social Media Tulsa and the driving force behind the annual SMTULSA Social Business Conference. "Yet we see so many businesses fail to take advantage of the tools and strategies available today. Your business deserves to be successful."
With that mission in mind, Lawson is hosting the 7th annual SMTULSA Social Business Conference in Tulsa on March 30–31, 2017. At the event, local and national social marketing experts will speak, coach and inspire business owners, non-profits, artists and authors with techniques and advice relevant to today's social marketing landscape. This year marks a first for the conference — it will take place in the Grand Hall of the Cherokees at Tulsa's popular Hard Rock Casino & Hotel.
SMTULSA brings together a select group of people to discuss digital marketing strategy, email marketing, SEO, and other techniques to help business people rise above the noise and make a mark that will give their business longevity. In today's tight, competitive marketing, conference attendees benefit from practical advice from business experts who are successfully and actively using the tools and techniques they share about in their conference sessions.
Networking is also a large and vital part of the two-day event. Through networking events, meals and more, conference attendees are encouraged to connect with others who are facing similar business challenges. The result is a network of like-minded, passionate social media aficionados who can share strategies and boost each other's goals.
"I've had the great opportunity to attend and speak at some of the largest social media conferences in the world," says Eric T. Tung, one of this year's speakers and Director of Digital Communications at GoTo Marketers. "But SMTULSA really gives you something different. They give you a network that you can walk away with… You can really tap into that network through SMTULSA and they can really help you figure your way out."
SMTULSA is well known for its impressive list of respected social networkers and businesspeople with proven success and expertise. Conference attendees can expect valuable insights into social strategy, marketing, customer care, brand management and much more. "It's less about bringing a lot of influencers together so we can influence each other and more about bringing together a community, so that we can share, have conversation, and really actually learn from each other," says Becky McCray, an expert on rural business trends and a repeat speaker at SMTULSA.
Other speakers this year include: Jacob Chappell, Vice President of Sales at SOCi; Robert Bochnak, Director of Social Media for the Harvard Business School's Alumni Office; Shayla Price, content creator/promoter for Kissmetrics, AgoraPulse, HostGator, Shopify Plus and others; Rick Rockhill, Executive Vice President of Lucy Pet Products; and Deb Brown, Executive Director Webster City Area Chamber of Commerce in Iowa. A full list of speakers can be found at smtulsa.com/speakers.
Registration for the 2017 conference is open at smtulsa.com. Early registration ($375 per person, with various package prices for both corporate and non-profit teams) ends February 28. After that date, the cost is $400. The conference has limited seating and is expected to sell out, so act quickly to secure your place.
About the SMTULSA Social Business Conference:
The SMTULSA Social Business Conference is a well-known, respected two-day event on digital marketing practices in the U.S. heartland. Local and national speakers gather to offer keynotes, case studies, presentations, breakout sessions, and an abundance of networking opportunities for small business owners, entrepreneurs, bloggers, visual media artists, social media aficionados, and others with an interest in engaging through online methods. To learn more, visit http://www.smtulsa.com
About Social Media Tulsa
Social Media Tulsa, the go-to resource for local businesses and events such as the Center of the Universe Festival, Route 66 Marathon, SCOTFEST, and others. To learn more, visit. http://www.socialmediatulsa.com