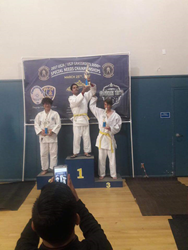 The smallest tree can grow stronger than earth and stone when helped by fresh air, sunshine, sympathetic rain, and a kind spirit.....Inspired by Kyuzo Mifune, Judan
San Francisco, CA (PRWEB) April 10, 2017
The 2017 USJA / USJF Grassroots Judo Special Needs Championships is the brain child of Sensei and Detective Brian Money of Riverside, CA who is also experienced and dedicated to the sport of Judo at Riverside Youth Judo Club. One of the attendees of the Tournament was Edgar Cabachuela, an Associate of the Blind Judo Foundation and member of the Industry Sheriffs Judo Club in Industry, CA.
Participating in the Championships creates value to individuals alike that is immeasurable for all who set fear or trepidations aside and commitment themselves to a sport like Judo with a history dating back to its founder Jigoro Kano in 1882.
Judo is not "blind" but inclusive as it accepts all who are willing to step onto the Tatami (Judo mat) and learn about a sport they might not consider because of their condition. The Riverside first annual event advocates for inclusion because of its intrinsic and extrinsic value.
Positive portrayals promote inclusion, increasing opportunities for education, employment and social integration with Judo being the catalyst of empowerment and enhancement to all.
One such competitor, Edgar Cabachuela who was introduced to Judo over one year ago and an associate of the Blind Judo Foundation won first place. Edgar born at one pound and now 27 has already set his sights for becoming a candidate of the 2020 US Paralympic Judo Team competing in Tokyo. Experiences like the Special Needs Championship provides positive reinforcement to all participants.
Having opportunities to impart the tenets of Judo like Sensei Brian Money along with his supporters and instructors like Sensei Gary Goltz and Sensei Pedro Villa will have a positive and lasting effect and affect upon all participants.
Judo, the second most popular sport in the world produces positive disability stories as we move toward a more inclusive society. Judo is blind to ethnic, socioeconomics, religion, language, disabilities and poverty as we meet each other on the Judo mat allowing each competitor to learn from each other.
Congratulations Sensei Detective Brian Money and et al for your work, dedication and commitment to making a difference among the inclusive community.
More information can be seen by visiting Riverside Youth Judo Club or contacting Pedro Villa, Assistant Tournament Director at Pvilla80(at)hotmail(dot)com
BRAVO Riverside Youth Judo Club!
p.s. Video is provided by Sensei Gary Goltz showing a Judoka receiving her promotion to Orange Belt.
About us:
The Blind Judo Foundation is a nonprofit 501(c) (3) organization introducing and training blind and visually impaired children, young adults and individuals in the sport of Judo. Supporting our blind athletes to train, travel, attend camps and compete relies upon your tax-exempt donations.
All members of the Blind Judo Foundation are volunteers. A select few of our elite athletes go on to represent the USA as members of the US Paralympic (not to be confused with Special Olympics) Judo Team.
More about the Foundation can be seen on our Facebook page. Ron C. Peck can be contacted at roncpeck(at)blindjudofoundation(dot)org or 1-425-444-8256 or Coach Willy Cahill at 1-650-589-0724 or http://www.dawave.com