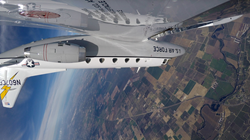 Get the most realistic upset training using our fully aerobatic Corporate Jet
San Francisco, California (PRWEB) March 28, 2017
Once again it's been brought to the attention of the aviation world that an airplane can go from normal flight to an unexpected inverted unusual attitude within seconds. Recently, the wake turbulence of an Emirates Airbus A380 caused a Challenger 604 Jet to roll at least 3 times and only after losing 10,000 ft. did they recover.
Consistently, over the past 50 years of statistically analyzed accident history in commercial aviation, Loss of Control In-Flight (LOC-I) is indisputably the leading cause of aircraft-related fatalities worldwide. Wake turbulence being the number one factor.
The Patriots Jet Team Upset Prevention and Recovery program provides training for corporate and airline pilots at their training facility in the San Francisco Bay Area. It's the only training center in North America that provides upset training in a Corporate jet (Sabreliner) in the FULL AEROBATIC ENVELOPE.
Our two day Patriots Jet Team UPRT program is a comprehensive study and analysis of historic corporate and airline fatal upsets and methods to safely recover from these conditions. An advanced stage of learning which includes practical on-aircraft training is vital to developing the life-saving skills and discipline of proper upset prevention and recovery while airborne.
The program is FAA approved and in complete compliance with FAA AC 120-111 on Upset Prevention and Recovery Training, Airplane Upset Recovery Training Aid (AURTA), FAA AC 120-109A on Stall and Stick Pusher Training, ICAO Manual on Aeroplane Upset Prevention and Recovery Training, and IATA Guidance Material and Best Practices for the Implementation of Upset Prevention and Recovery Training.
The Patriots Jet Team Upset Prevention and Recovery training can best prepare your pilot group with the most realistic training in the world using our fully aerobatic Corporate Sabreliner Jet.
ABOUT US:
The Patriots Jet Team is the only civilian-owned six-aircraft aerobatic jet demonstration team in the United States featuring world-class pilots who are former members of elite military teams. Visit us at: http://www.patriotsjetteam.com