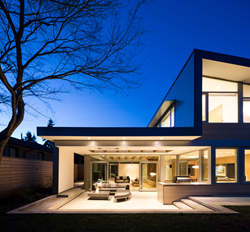 Vancouver, British Columbia (PRWEB) September 01, 2017
The Modern Architecture + Design Society returns to Vancouver for the 5th annual Modern Home Tour on September 16, 2017. During the self-guided event, tour-goers will get the inside scoop from homeowners on what it's like to live in a modern home, and learn from the architects, builders and designers, where they found inspiration. This is every BC resident's chance to see the inside of 'that amazing house on the block…'
As always, KPU's Wilson School of Design has been named as the Modern Home Tour local non-profit partner and beneficiary. Fashion marketing students will help staff the event, in return for a donation to the school's program and the opportunity to use the tour as a fundraising vehicle, while also contributing community service hours, a cornerstone of the applied learning that Kwantlen students are known for.
Six homes have been accepted and confirmed for the 2017 Vancouver Modern Home Tour. Participating architects and designers, and featured neighborhoods include:
(1) The Edge House in North Vancouver, designed by Kevin Vallely of Vallely Architecture, and built by Meister Construction.
(2) A spacious laneway house designed by Iredale Architecture and built by Kliewer Brothers Construction near the Kitsilano neighborhood.
(3) The Pacific Spirit Residence, designed by Frits de Vries Architect Ltd and built by Hart + Tipton Construction includes a full home plus laneway house right off the eastern edge of Pacific Spirit Regional Park.
(4) A laneway house on the East Side designed and built by Lanefab Design/Build.
(5) A 1980's Mid-Century classic home out in Montiverdi Estates (West Vancouver) that was recently renovated and updated by LCI Design.
(6) A laneway home designed by Shelter Residential Design Ltd and built to accommodate a growing family in North Vancouver; the parents moved into the new modern coach house, while the kids took the original home to raise their new family!
Participating homes in the Modern Architecture + Design Society's 5th Annual Vancouver Modern Home Tour will open their doors for viewing from 11AM – 5PM on Saturday, September 16th, in Vancouver, North and West Vancouver. All are invited to attend. Tickets for the event is CAD$50 and include a pre-tour launch party, Thursday, September 14. This year's Modern Home Tour series is sponsored by Marvin Windows & Doors. For more details, to see a current roster of homes with details and photos, and to buy tickets for the Vancouver Modern Home Tour, visit: http://mads.media/2017-vancouver-mads-modern-home-tour
About the Modern Architecture + Design Society: Based in Austin, Texas, the Modern Architecture + Design Society was founded by James Leasure in 2010 as Modern Home Tours, to introduce modern architecture and living to people across the nation. Through fun and informative self-guided home tours in dozens of cities across the USA and Canada, the group invites people into some of the most exciting examples of modern architecture and design in the nation. With carefully selected architects, neighborhoods and architecture, the MA+DS Home Tours are unlike anything you've ever seen. Not only will you learn about the cutting edge of home design while on our tours, but you might even get an idea or two for your next home project!