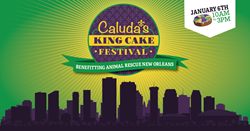 "This is absolutely my favorite time of year," said John Caluda, owner of Caluda's King Cake. "We'll have all of our most popular king cake flavors on hand to kick off the season. Celebrating and giving to a great cause, what could be better?"
HARAHAN, La. (PRWEB) January 03, 2018
The 3rd Annual Caluda's King Cake Festival will be held Saturday, January 6, 2018, in celebration of Kings Day and the start of the Mardi Gras season to support local charity. The festival will take place at Caluda's King Cake bakery on River Oaks Road West from 10 am to 3 pm. The event is free to the public and pet-friendly. All proceeds from king cake sales will be donated to Animal Rescue New Orleans (ARNO).
In addition to a selection of king cake flavors, the festival will feature other food and beverages available for purchase. Representatives from ARNO will be there with rescue animals up for adoption. There will be face painting, a live DJ and other family activities. Prizes include free admission passes to Audubon Nature Institute, a walking tour for 2 courtesy of Two Chicks Walking Tour, and gift cards to Zuppardo's Family Supermarket and Majoria Drugs(Westbank), and of course, Caluda's king cakes!
King cake flavors available for sale by the slice or whole cake during the event will include Traditional, Chocolate Chip Cookie Dough, White Chocolate Bread Pudding Raspberry, Maple Bacon Praline, Banana Foster, Oreo Cream Cheese, and savory cakes such as Crawfish and Muffaletta.
For more information on the 3rd Annual Caluda's King Cake Festival or to order a fresh-baked Caluda's king cake for the 2018 Carnival Season, interested parties can visit http://www.kingcakeshop.com or call (504) 218-5655. Caluda's King Cake is located at 1536 River Oaks Road West, Harahan, La. 70123.
Caluda's King Cake is an authentic New Orleans bakery specializing in fresh-baked, seasonal king cakes year round. Operating out of a 10,000 square foot bakery in Harahan, they offer a variety of both traditional and non-traditional flavors. King cakes can also be shipped anywhere in the country with FedEx 2nd Day and Next Day service and online ordering available 24/7.