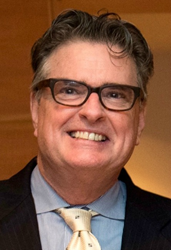 WASHINGTON (PRWEB) January 01, 2018
Center of Concern President Dr. Lester A. Myers is pleased to announce the appointment of Mr. Kevin R. Locke as the inaugural director of Center Advisory, the Center's client-service unit, effective January 1, 2018. Locke will join the Center team in serving its global client base from the Center's new offices two blocks from the White House.
"Kevin's leadership for advisory services signals an important step in the strategic evolution of the Center as a social enterprise for social justice," said Myers. "The Center advances its mission and delivers value for its stakeholders through its core services of research, education, and advocacy from Catholic social tradition. Kevin's qualifications enhance the Center's capability to show the relevance, authoritativeness, and influence of this tradition and this value. He'll assist the Center's clients in interpreting and applying Catholic social tradition and complementary strategic, managerial, financial, and ethical frameworks to design, implement, and evaluate mission-oriented strategies for leadership, governance, and operations that model these principles as they engage on issues of social justice and care."
"With Kevin's leadership, the Center simultaneously will model sustainability itself and complement its support from charitable giving, memberships, grants, and licensing with fees that it earns from creating this value for clients. This diversification of the Center's revenue portfolio will enable it to take greater responsibility for its future. Kevin's arrival affirms the Center's commitment to long-term quality growth through mission-centered service," Myers continued.
The advisory character of these contributions traces to the Center's origins in 1971 as a joint project of the Society of Jesus (Jesuits) and the predecessor to the United States Conference of Catholic Bishops to convene diverse voices to help develop impactful thought leadership from Catholic social tradition to advise other organizations. Today, the Center is an independent organization and Center Advisory has formalized this role with talent and technology for the 21st century to help clients be more effective and efficient in discharging their missions, particularly for social service, social advocacy, and positive systemic transformation of structures that perpetuate injustices. The Center has provided advisory services for organizations with civil society, social service, social advocacy, philanthropic, faith-influenced, educational, corporate, and other profiles.
Locke commented, "The Center has wonderful new offices on K Street, near centers of influence. You have the White House, UN High Commission on Refugees, World Bank, IMF, and the full complement of embassies. Having a strategic location from which to work, I am thrilled to be in the privileged position of working for human rights, care for the universe, and global financial systems that support integral human development, with a preferential option for the poor. I look forward to working hard to become a voice for the principles of the Center, and to create a space for high-level dialogue with institutions that wield global impact. All this work points to the pursuit of justice, a prerequisite for a thriving society. We have seen sweeping challenges to justice both abroad and at home in recent times. While these events are disturbing and have resulted in considerable loss of livelihood and even great loss of life, there is always hope in dialogue. I should add that I am grateful for the preparation for this work by the Jesuit Order."
A native of Boston, Locke graduated from Boston College with a B.A. in English literature and communications and began his career at WGBH-TV/FM. After entering the Jesuits in Boston, he continued his personal and professional development through pastoral, training, and educational service in Kingston, Jamaica; Dublin, Ireland; and the Vatican. He also earned an M.A. in philosophy at Fordham University, with studies in theology and art history. In Rome, he earned an M.A. in theology, with course work in art history, at the Pontificia Universita' Gregoriana, the institution that Ignatius of Loyola founded in 1551.
While in Rome, Locke worked as the director of public relations at Radio Vaticana. His responsibilities included creating, packaging, and globally marketing a 2-CD package of the spirituality and music of Pope St. John Paul II. This successful campaign earned praise from the international edition of Business Week. Locke also provided live radio commentary for papal events in St. Peter's Basilica and other ceremonies of the Holy See. He traveled as part of the papal party on international pilgrimages to ensure a live global broadcast audience from remote locations, including for the Holy Father's address to the United Nations General Assembly on October 5, 1995. Before the address, Locke handled the protocols and logistics for a private meeting between the pope and United Nations Secretary General Boutros Boutros-Ghali.
After leaving the Jesuits in 2001, Locke served in senior executive and advisory roles for social profit organizations in Washington, D.C., including Washington Theological Union and the U.S. International Council on Disabilities, where he managed an advocacy campaign focusing on the U.S. Senate Foreign Relations Committee to ratify the U.N. Treaty on the Rights of Persons with Disabilities. He worked in advancement, stewardship of a presidentially appointed board, and developing programmatic content at the Woodrow Wilson International Center for Scholars. He also provided strategic direction, business development, and promotional services for Interfaith Voices at WAMU-FM.
Locke has performed with the Washington Men's Camerata since 2007 and has served on its board. He also was a board officer for the Committee of 100 on the Federal City. In 2016, he published the book, Ireland: A Book of Photographs to Inspire Longing, Laughter, and Love. He is active with the civil society group at the Embassy of Ireland to the United States, and pursues study of Irish culture, language, architecture, and the natural environment. In Rome, he had a key role in the restoration of Palazzo Gabrielli-Borromena, a notable edifice and residence that the Jesuits have held since 1605.
Myers added, "As the Center embarks on its 48th year of service, Kevin will help it renew its Ignatian roots and expand its constellation of global, inclusive, and intergenerational supporters. He will draw on his decades of pastoral, thought, and executive leadership to amplify the Center's impact in public and private centers of influence to respond to urgent challenges for integral human development, such as climate change, the refugee crisis, armed conflict, income inequality, education of girls and empowerment of women, social justice education, international trade, and tax policy. We are delighted to welcome Kevin to the team to enhance our mission and to help the Center continue to share its supporters' voices for global social justice and care for our common home and one another."
ABOUT CENTER OF CONCERN
Center of Concern envisions a global community that upholds basic human rights and human dignity, fosters just relationships, promotes sustainable livelihoods, and renews the earth.
Since its founding in 1971 at the office of United Nations Secretary General U Thant by National Conference of Catholic Bishops General Secretary Joseph Bernardin and Jesuit Superior General Pedro Arrupe, S.J., and with seed capital and significant talent and treasure from women religious, the Center has served in Washington, D.C., with a mission to research, educate, and advocate from Catholic social tradition to create a world where economic, political, and cultural systems promote sustainable flourishing of the global community.
The Center's strategy for executing this mission is to add value by engaging with public and private centers of influence through an integrated model of social enterprise that seeks global transformation for social justice in core competencies including global financial systems and human rights; global women's issues; integral ecology; principled governance, ethical leadership, and strategic philanthropy; and social justice education, including the award-winning Education for Justice.
The Center is a member of Coopération Internationale pour le Développement et la Solidarité, Catholic Charities USA, and the Ignatian Solidarity Network, and holds consultative status before the United Nations Economic and Social Council.