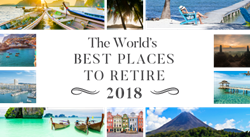 Baltimore, MD. (PRWEB) January 02, 2018
InternationalLiving.com, the leading authority on global retirement and relocation opportunities, has just released its Annual Global Retirement Index for 2018.
This year's Index—the most comprehensive produced over the last 27 years—highlights several new items worth noting: Costa Rica takes the top spot for the first time. Bali appears on the Index for the first time. And Peru makes the top 10 for the first time.
The 2018 Index itself is more comprehensive than ever, including ratings in 12 categories (2 more than in years past): buying and investing; renting; benefits and discounts; visas and residence; cost of living; fitting in; entertainment and amenities; healthcare; healthy lifestyle; development; climate; and governance.
The key aim of the Index is to help retirees find locations where their dollar goes further—where they can get the best bang for their buck in terms of real estate, cost of living, and overall quality of life.
A vast amount of hard data goes into the Index, the scores across the individual categories are added up, and then a total score is established for each country.
"By design, the rankings in our annual Global Retirement Index are largely subjective, but we build it from a base of facts and figures," says Jennifer Stevens, International Living Executive Editor. "Our editors rely on the informed judgment and real-world experience of the magazine's contributors and editors in the field as well as additional in-country expats…people who have made the move and have first-hand experience.
"They provide detailed data and insights about the places where they live—places we feel confident recommending to folks interested in retiring abroad. Data like the average-cost-per-foot of real estate spread over an entire country isn't really useful when we're not recommending a whole country.
"We're focused, instead, on particular communities. So in terms of real estate, for instance, we're looking at what it costs to rent or buy the sort of place an expat would want, in a neighborhood that's desirable. So we're gathering up-to-date, accurate, on-the-ground data that's useful and—most importantly—reliable and relevant to prospective retirees."
This annual Global Retirement Index is the most comprehensive and in-depth survey of its kind. It sifts through the wealth of opportunity the world offers to help readers pinpoint the destinations that might be best for them, given their own priorities, budget, and interests.
In InternationalLiving.com's 2018 Global Retirement Index, the world's top 10 retirement destinations are:
1. Costa Rica
2. Mexico
3. Panama
4. Ecuador
5. Malaysia
6. Colombia
7. Portugal
8. Nicaragua
9. Spain
10. Peru
Costa Rica, the winner of the International Living 2018 Global Retirement Index has been a perennial presence in the Index. And this year it climbed from fourth place to the top.
"North Americans have been flocking to Costa Rica for more than 30 years, attracted by the tropical climate; low cost of living; top-notch, affordable medical care; bargain real estate; and natural beauty," says Jason Holland, IL Roving Latin America Editor.
"I love Costa Rica. You can kick your shoes off on white-sand beaches, hike through lush lowland jungle or mountain cloud forests, and bask in volcanic thermal springs. Rent a furnished two-bedroom home for just $500 a month, buy an oceanview property for under $200,000, spend $25 in the feria (farmers' market), and come home with a week's groceries for a couple.
"No wonder Costa Rica has long hovered as a top pick, well worthy of consideration as a comfortable, good-value place to live.
"In an increasingly uncertain world, Costa Rica stands out today as a beacon of dependability. It's not up-and-coming or edgy or the hot new thing," says Holland. "It has been quietly growing into a model country—a standout in the region. It has a steadily growing economy; dozens of multinationals like Amazon and Microsoft have major operations there. The low crime rate means you can feel safe just about anywhere in the country, day or night. And there is a focus on preserving the environment, with 25% of the country's territory protected."
To accurately interpret the Index, it's important to note that the editors at International Living are pointing readers to specific places they believe are worth a retiree's attention.
Bali—a new addition—is the only part of Indonesia IL recommends for retirement; Roatán is the only place in Honduras recommended; while in Ecuador, by contrast, there are easily half a dozen hot spots for a retiree to consider. (The full table of the comparative rankings—as well as detailed discussion of the top 10 countries included—is here.)
Annually, the editors at International Living reflect on and refine the methodology used to construct the Index. And this year is no exception with some new classes to further weigh the countries: Buying and Investing; Renting; and Governance.
Buying and Investing: Until last year, "buying and renting" formed one category. But IL wanted to drill down further and therefore remodeled. This category now looks first at the ease of buying and owning property as a foreigner, then the value. It assesses things like the price of a two-bedroom house, a condo in a desirable location, the cost of building, and property taxes. And it asks if there is a strong case for investment and profit, or if it's just a good-value buy.
Renting: "Try before you buy"—that's always IL's advice. And in many destinations, renting makes better financial sense than buying. IL first looked at the ease of getting short-term rentals and how much a nice place would cost. And then looked at longer-term leases, and examined costs for a range of property types, from condos to houses with land.
Governance: The world can be scary, but a good score in this category reflect's a nation's commitment to personal freedom, keeping bureaucracy to a minimum, and offering a stable and safe environment for comfortable living.
The complete 2018 InternationalLiving.com Global Retirement Index, including more information on the winner and the other nine countries that made it in to the top 10, as well as the individual rankings in all 12 categories for all 24 countries included, can be found at: The World's Best Places to Retire in 2018.
Editor's Note: Members of the media have permission to republish the article linked above once credit is given to InternationalLiving.com.
Further information, as well as interviews with expert authors for radio, TV or print, is available on request. Photos are also available.
For information about InternationalLiving.com content republishing, source material or to book an interview with one of our experts, contact PR Managing Editor, Marita Kelly, +001 667 312 3532, mkelly@internationalliving.com
Twitter: @inliving
Facebook: https://www.facebook.com/International.Living/
About International Living
For 37 years, InternationalLiving.com has been the leading authority for anyone looking for global retirement or relocation opportunities. Through its monthly magazine and related e-letters, extensive website, podcasts, online bookstore, and events held around the world, InternationalLiving.com provides information and services to help its readers live better, travel farther, have more fun, save more money, and find better business opportunities when they expand their world beyond their own shores. InternationalLiving.com has more than 200 correspondents traveling the globe, investigating the best opportunities for travel, retirement, real estate, and investment.