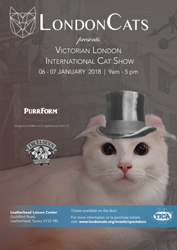 Last few days to pre-buy tickets for the event!
LEATHERHEAD, England (PRWEB UK) 4 January 2018
Katzenworld is set to have a stall at the LondonCats International Cat Show this coming weekend which will showcase more than 220 cats of over 50 different breeds.
The show will be open to visitors both Saturday and Sunday from 9.00 - 17.00 in Leatherhead.
The International LondonCats show is in town on a mission to stage, reward and celebrate our purrfect companions. They will be taking over SURREY on the 6th and 7th January 2018 when they will share the love with more than 220 cats of over 50 different breeds.
Leatherhead Leisure Centre will again be hosting this prestigious show and will present the most exotic felines competing for internationally renowned judges, aiming to win championship titles and points towards the award of the best cat in the world.
Tickets to the show allows visitors buy some excellent treats and gifts for their furry friend from a multitude of vendors including Purrform Raw Cat Food as well as many more. Tickets will be available from the LondonCat's website and on the day.
Katzenworld will once again give visitors a chance to purchase high quality catnip and valerian toys such as the 4cats premium wrestler. All of the 4cats toys are produced in Germany and only use the highest quality material and herbs for the cat attract part of the toys.
Tickets are available at the door or online: http://www.londoncats.org/events/spectators/