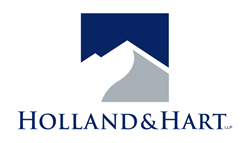 They reflect diverse experiences, and each of them has a commitment to the types of innovation that are crucial to the firm's future, and that will enable us to continue providing the value and exceptional service that our clients deserve.
DENVER (PRWEB) January 03, 2018
Holland & Hart LLP today announced that eight attorneys have been elected into the firm's partnership, effective Jan. 1. The new partners represent a range of practice areas and work from several offices in the firm's footprint that includes eight states and Washington, D.C.
"We are proud to announce the election of these eight client-focused attorneys to our firm's partnership. They have each demonstrated a level of professional and personal excellence of which they can be justifiably proud," said Liz Sharrer, chair of the firm. "They reflect diverse experiences, and each of them has a commitment to the types of innovation that are crucial to the firm's future, and that will enable us to continue providing the value and exceptional service that our clients deserve."
The new partners are as follows:
Anna Eberlin – Boise, Real Estate Development and Finance:
Anna represents clients in a wide variety of transactional matters, including the areas of commercial and real estate transactions, financing, and corporate work. She advises clients on real estate and development projects and use and permitting matters for shopping centers, industrial, medical, office, renewable energy projects, and other commercial development.
Craig Frame – Salt Lake City, Corporate:
Craig advises companies at all stages of growth, from formation to exit, helping them successfully raise capital, and complete acquisitions and divestitures. Craig also serves as outside general counsel to emerging growth companies helping them manage ongoing day-to-day legal issues including formation, capitalization, debt, governance, compliance, contract management, and licensing.
Hope Hamilton – Boulder, Intellectual Property:
As a trademark enforcement attorney, Hope counsels clients on strategic enforcement, with a focus on helping clients resolve disputes prior to litigation. When litigation is inevitable, Hope approaches each conflict with a fresh, creative perspective, advocating fearlessly to achieve the best and most efficient results for her clients.
Ashley Peck – Salt Lake City, Environment, Energy, and Natural Resources:
Ashley represents industrial, energy, mining, and municipal clients in complex environmental litigation and regulatory compliance matters. She litigates environmental disputes, defending clients in civil and criminal enforcement proceedings, environmental citizen suits, and agency tribunal hearings and appeals. Ashley also helps clients to navigate complicated water discharge, wetland, and other environmental permitting processes.
Paul Schramm – Boulder, Intellectual Property:
Paul Schramm's practice focuses on strategic patent portfolio development. He manages a number of large, sophisticated international patent portfolios in the electronics, telecommunications, and computer arts, and oversees the work of a number of junior attorneys, patent agents, and engineers within the patent group. Paul is skilled at maneuvering applications through complex procedures in the U.S. Patent and Trademark Office.
Lindsay Silber– Denver, Intellectual Property:
Lindsay focuses her practice on structuring, drafting, and negotiating intellectual property, technology, and commercial transactions, representing clients of all sizes and stages of maturity. Lindsay is also known for her expertise structuring and addressing the intellectual property aspects of corporate transactions.
Jeremy Syz – Boulder, Real Estate and Development:
Jeremy advises clients on transactions involving the acquisition, financing, sale, and development of real property, with an emphasis on affordable and market rate housing projects. He counsels clients through a variety of complex corporate and real estate transactions, and achieves solutions for clients seeking to finance unique and challenging collateral, and successfully develop urban construction projects.
Roger Tsai – Denver, Labor & Employment:
Roger counsels companies on a broad spectrum of immigration and employment issues. Roger helps companies secure temporary and permanent visas for foreign nationals, including H-1B visas and permanent resident status. He also represents companies under investigation by the Bureau of Immigration and Customs Enforcement and guides clients through proactive internal audits of their eligibility documents.
About Holland & Hart
Holland & Hart is a full-service law firm that today has approximately 500 lawyers across eight states and in Washington, D.C. delivering integrated legal solutions to regional, national, and international clients of all sizes in a diverse range of industries. For more information, visit http://www.hollandhart.com or on Twitter: @HollandHart.