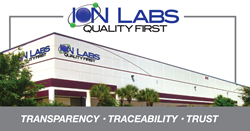 TAMPA, Fla. (PRWEB) January 04, 2018
Since the last announcement of Ion Labs expanding their operation in July 2016, the company has added several large manufacturing machines to their operation; such as new liquid capsule, tablet, and powder machines. These high-volume machines have created new opportunity with large pharmaceutical and supplement companies across the globe.
Ion Labs is a one-stop, vertically integrated turn-key contract manufacturer. Everything from formula creation to product testing to packaging and fulfillment is handled all in-house at Ion Lab's 150,000 sq. ft. facility in Largo, FL.
Ion Labs has a full in-house Research & Development department charged with the development and innovation of new products and overseeing and maintaining a vast catalogue of historical formulations. Creating custom supplements and products gives Ion Labs a big advantage over the competition. By providing transparency, trust and traceability to every product, clients can trust the full range of operations at Ion Labs.
In Fall 2017, Ion Labs launched Ion Fulfillment, an operation that provides cost-effective solutions to businesses who are looking to grow their brand(s). Their fulfillment operation includes CRM integrations, eCommerce integrations, premium packaging & design options, warehousing, and shipping solutions.
Manufacturing Capabilities

5 powder blenders ranging from 100kg to 9,000kg per batch
7 tablet presses (8 million tablets per shift)
8 double and triple head encapsulation machines (8 million capsules per shift)
6 liquid capsule and capsule-in-capsule machines with bander
3 coating machines ranging from 120kg to 600kg per pan load
3 tablet and capsule bottling lines (125,000 bottles per shift)
1 powder filling line (30,000 bottles per shift)
Blister packing
Unit dose PVC vials
Automatic cartoning machines (bottles and blisters)
Shrink wrapping (bottles, trays, etc.)
Shrink sleeving
Sachets (tablets/capsules [including multi-packs] and powders)
Stick packs
8 liquid/cosmetic mixing tanks ranging from 80 to 3,000 gallons
4 liquid/cosmetic filling lines (100,000 bottles per shift)
About Ion Labs
Ion Labs, Inc. is a contract manufacturer that has been providing new and existing clients with the highest quality products in nutrition and health manufacturing since 1983. From product development to contract manufacturing to release and shipping, adherence to NSF cGMP compliance in an FDA-registered facility has been our formula for integrity and product fulfillment for over thirty years. Ion Labs specializes in manufacturing dietary supplements, OTC Drugs, pet supplements, and skin care products in the United States of America.