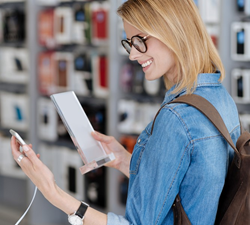 Smaller retailers must leverage affordable technologies to wow customers and stay competitive.
HOBOKEN, N.J. (PRWEB) January 04, 2018
A NYC area retail technology consultant and MSP discusses the challenges and opportunities for smaller stores concerned about keeping up with retail technology in a new article on the eMazzanti Technologies website.
The company lists its recommendations for retail technology basics and how smaller retailers should proceed to select a technology provider.
In the informative article, the firm, recognized as the top ranked retail-focused MSP in the U.S., also gives examples of retail technology employed by larger stores such as interactive games, Bluetooth beacons and audio branding. Customer experience is cited as the primary retail technology driver.
"Retail customers now expect a technology-driven experience," stated Jennifer Mazzanti, CEO of eMazzanti Technologies. "Smaller retailers must leverage affordable technologies to wow customers and stay competitive."
Below are a few excerpts from the article, "Smaller Retailers: Keeping Up with Technology."
"Modern retailing is becoming less about location and more about customer experience. That means having the basics, like up-to-date credit card terminals, is expected now just to be in the game. To compete effectively, retailers must provide more. Often, for smaller retailers, keeping up with technology is the key."
"Flagship stores—bigger, more impressive stores that showcase a retailer's brands—lead the way with retail technology. Some offer interactive games, numerous digital screens, exclusive tech accessories, or may personalize merchandise on the spot."
Retail Technology Basics

"Security – Retailers need up-to-date cyber-security technology to block hackers who employ sophisticated technologies of their own, like keystroke loggers and RAM scrapers to collect credit card numbers and other data."
"PCI compliance – Having the right payment technology, including proper installation is required by all the major credit cards. PCI compliance helps protect today's chip and PIN cards and consumers."
How to Keep Up with Retail Technology
When seeking to update small business retail technology, owners should remember that technologies vary based on the type of store. They should choose a professional that knows their industry and can help them prepare for the future.
As the #1 small business retailer-focused MSP in the U.S., eMazzanti Technologies is a one-stop shop for retail technology, including network infrastructure and management, cloud services, customer Wi-Fi, POS systems, PCI compliance, payment technology, payment gateways, merchant services, eCommerce and network security.
Related resource information:
What Remote Desktop Services Can Do For Your Business
2017 Business IT: The Year in Review
About eMazzanti Technologies
eMazzanti's team of trained, certified IT experts rapidly deliver retail and payment technology, digital marketing services, cloud and mobile solutions, multi-site implementations, 24×7 outsourced network management, remote monitoring and support to increase productivity, data security and revenue growth for clients ranging from law firms to high-end global retailers.
eMazzanti has made the Inc. 5000 list eight years running, is a 2015, 2013 and 2012 Microsoft Partner of the Year, 2016 NJ Business of the Year, 5X WatchGuard Partner of the Year and one of the TOP 200 U.S. Microsoft Partners! Contact: 1-866-362-9926, info(at)emazzanti.net or http://www.emazzanti.net Twitter: @emazzanti Facebook: Facebook.com/emazzantitechnologies.