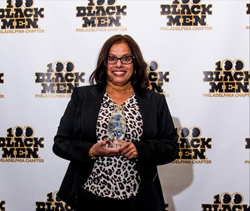 I only hope that we can continue to strive for equality, together, in the new year.
WILMINGTON, Del. (PRWEB) January 08, 2018
Jayshree Moorthy, CEO and Founder of Frontier Technologies, Inc. was recognized by the non-profit, 100 Black Men of Philadelphia, on December 5th, as part of the 2017 Women of Color Achievement Awards with the Women Presidents' Organization (WPO).
Approaching 30 years in business, Moorthy has led Frontier Technologies from the ground floor, specializing in building agile, diverse technology and IT teams and developing disruptive strategic initiatives for decades.
But more than just her business, Moorthy has been an advocate in the community, placing her focus primarily on diversity and inclusion. She has served and sat on the boards and councils of other supplier diversity organizations like WBENC and the EMSDC.
Back in 2013, Reshma Moorthy, Jayshree's daughter and President of Frontier Technologies, also received the same award. As a family-owned business, the mother-daughter pair have formed quite the dynamic duo, leading their company to explosive growth in the last few years.
Receiving her award in Center City Philadelphia at the Warwick Hotel culminated a year full of accomplishments for the seasoned business leader. As a family-owned business, she and her daughter, Reshma Moorthy, led her team to receive two awards from the EMSDC earlier in December: Class III Supplier of the Year and Minority Business Enterprise Advocate of the Year. And coming this March, she will receive the WBENC Star Award as well.
"I could not be more grateful to our wonderful clients, who allow us to do what we love," said Moorthy. "Or to the many other women of color who prove that diverse business is good business by design. I only hope that we can continue to strive for equality, together, in the new year."
About Frontier Technologies, Inc.
Frontier Technologies, Inc., headquarters in Wilmington, DE, along with operations and clients across the US, is a full-service Information Technology (IT) Infrastructure Systems & Staff Augmentation company—enabling enterprises to meet or exceed their IT goals on-time, on-budget, and on-spec. A minority-woman owned business as classified by the government for supplier-diversity initiatives. Leveraging almost 30 years in business, forming strategic partnerships with IT giants like IBM, Dell-EMC, VMware, Microsoft, HP and small businesses alike to provide clients the best-of-breed solutions with ease. Frontier is brand and technology agnostic. Frontier provides the consultative services for evaluating and selecting the best solutions providing clients peace of mind and a sustainable ROI.
About the 100 Black Men
"100 Black Men of America, Inc. provides long-term mentor relationships for multiple stages of life that expand the possibilities of what can be achieved. We provide expanded educational experiences and advocacy in the areas that significantly affect the community. The 100 addresses systemic issues and bridges opportunity gaps for African American youth. We create environments where children and their families are inspired to dream, challenged to achieve and empowered to be economic stakeholders. We create opportunity." - 100 Black Men
About the Women Presidents' Organization
"Women Presidents' Organization, Inc. (WPO) is a nonprofit membership organization for women presidents of multimillion-dollar companies. The members of the WPO take part in professionally facilitated peer advisory groups in order to bring the "genius out of the group" and accelerate the growth of their businesses." - Women Presidents' Organization