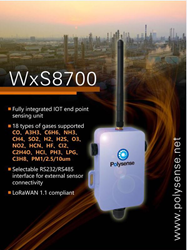 SANTA CLARA, Calif. (PRWEB) January 09, 2018
Polysense Technologies Inc., (Polysense) an innovation leader in enterprise IoT solutions for fiber and wireless sensing, today introduced WxS 8700, its second LoRa sensor end node product family, focusing on the market for dangerous gas monitoring.
Gas, dust, and particulate matters are today present everywhere in our daily lives – in our breathing atmosphere, in our homes, in our working environment, in our vehicles; there is no escape from such seemingly invisible stuff. Some of them are unharmful, even necessary, such as O2.
However, many are dangerous – flammable causing fire, explosive causing fatal accidents or poisonous causing cancers. Major elements of environmental pollutions or living environment with bad odor are generated in many industrial processes, from vehicles, or just gas leaks. Therefore, it is becoming increasingly critical to be able to detect and monitor the presence and density of such type of gases, dust and particulate matters, for the safety of society and the health of human beings, thereby assuring the density level does not rise or cross the dangerous threshold levels or report timely to avoid major accidents by advanced warnings.
"As LPWAN technology is becoming increasingly mature with wide deployment and greater network coverage, IoT sensor nodes are increasingly playing more important role in end user application," said Dr. Yuan Fei Chen, professor at The Institute of Computing Technology (OCT), Chinese Academy of Science, and CEO of Zhongke Smartcity, https://www.zcyun.cn. "Industrial campus environment is harsh, complex and mission critical, Polysense WxS 8700 will be valuable in such scenarios."
Supporting turnkey monitoring solutions for 18 types of dangerous gases, the WxS 8700 enables a wide range of gas monitoring IoT applications, including but not limited to:

Industrial campus safety - many industrial operations, as part of the chemical process, generate certain types of gases which may be harmful to workers, pollute the air, or even cause fire or explosion under certain conditions (temperature and pressure)
Crowded spaces - such as subways, shopping centers, CBDs, are potentially dangerous for accidental gas leaks, fire, or terrorism attacks
Air quality (AQI) - now a major measurement of quality of life in any city. A holistic view of the air quality consists of a number of measurements, including CO, O3, NO2, and PM 1/2.5/10
Home safety - how often do you go back home multiple times to double check that the appliances in kitchen is turned off when you leave home to work or go on a vacation. You are concerned about gas leaks and fire
"With the successful launch and subsequent customer adoption of Polysense WxS 8800 LoRa Universal Sensor node, our customers requested a LoRa sensor end node for dangerous gas monitoring," said Rick Li, Founder and CEO, Polysense. "The WxS 8700 is developed to meet that specific demand, enabling our customers to detect and monitor the most common types of gases that are flammable, explosive, and poisonous or with bad odor."
"The Polysense WxS 8700 is a great addition to our own line of LoRa based IoT sensor nodes and products, offering a flexible plug and play gas sensing solution for an array of dangerous gases," said Mr. Tony Bowden, CTO at Pansofik, (https://www.pansofik.com/) , a leading IoT consulting firm based in New York. "We are excited to see innovative solutions such as WxS 8700 coming to market for critical safety monitoring applications that help us meet the varied and unpredictable demands of our customers."
Key Features of the WxS 8700 LoRa-enabled universal sensor node series:
Fully integrated IOT end point sensing unit
18 types of gases supported (flammable, explosive, poisonous or with bad odor), electrochemical and catalytic sensing

Analog and digital interface for external sensor connectivity and pulse counting (MPI)
Selectable RS232/RS485 interface for external sensor connectivity
Analog and 16 level PWM digital output for actuator control
3v/5v/9v/12v power output to external devices
IP 67 enclosure rating
Integrated internal antenna
1 or 2 'AA' Li-Ion Battery; 5 – 10 years of battery operational life
Optional DC 5V power source
Optional external SMA/IPEX antenna
LoRaWAN 1.1 compliant
Up to 5km reach in NLOS and up to 18km LOS environments
Edge computing and cloud sensor data processing and analytic
Combined with WxS 8800 LoRa universal sensor product family ( http://www.prweb.com/releases/polysene/lora/prweb14420035.htm ), Polysense WxS 8800 and WxS 8700 now offers the industry's broadest and most flexible LoRa sensor end node product portfolio, supporting over 30 types of sensing capabilities.
Availability
Polysense's WxS 8700 universal sensor node series is in production and immediately available for ordering.
Contact Polysense for ordering and pricing: info(at)polysense(dot)net
About Polysense
Located in Santa Clara, California, with offices in Beijing, Luo Yang and Shanghai, China, Polysense develops products and solutions for Industrial IoT and smart buildings, including distributed fiber sensing, LPWAN LoRa and NB-IoT based wireless IoT sensors, Passive Optical Network (PONs) and cloud based data management and analytics platform (iView).
Polysense Press Contact: Kathrine Yang
Phone: (408) 800 7728
Email: kyang(at)polysense(dot)net
Web: http://www.polysense.net/en/index.php