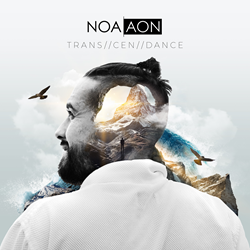 NOA | AON isn't pursuing a career as a professional DJ/producer to get rich, become famous nor to meet beautiful women and travel the world in chartered jets. He's already done all of those things.
NEW YORK (PRWEB) January 05, 2018
Essential. Invigorating. Universal. Music is like blood and oxygen for the artist known as NOA | AON. It's elemental, necessary and vital to his very being. NOA | AON isn't pursuing a career as a professional DJ/producer to get rich, become famous nor to meet beautiful women and travel the world in chartered jets. He's already done all of those things. The sole purpose of NOA | AON's pursuit of DJing as a profession is to unite people through the power of music. Strangers become friends. Friends become family. The debut album by NOA | AON, trans//cen//DANCE, is out now.
Trans//cen//DANCE is an electronic music album consisting of seven tracks based on the seven cycles of life and love. The central themes represented by each track are timeless and NOA | AON strives to convey emotion through his music. Emotions such as infatuation, ecstasy, anxiety and serenity. Ultimately, he hopes his music allows listeners to progress through their own personal journeys until they reach the sustained high that can only come from everlasting transformation.
"Feels" is an unassuming, mid-tempo track that saunters breezily through the air with a chillout vibe that's sunny and welcoming. "Devotion" ratchets up the tension with gravity-building dissonance and a syncopated beat accompanied by snarling synthesizers. "Crossroads" has a distorted vocal and shrieking energy accompanied by wobbling horns and an insistent percussion. "Take Your Chance" is a song that exudes vigor and encouragement with its supremely uplifting vocal and jazzy production filled with big swells and plenty of tasty interludes. "Intervention" has optimistic-sounding, chopped chords on the intro that hammer into a persistent beat, driving this hyperactive track forward in a frenzy of bass-heavy noise. "Surrender" is a thrilling, house music effort of distorted horns set against a gritty background of mysterious flute-playing. "United" rounds out the album by casting aural rays of light onto the dancefloor, lifting moods and inspiring positivity. In all, trans//cen//DANCE is a life-affirming album that illustrates NOA | AON's vitality and hunger for life.
Tracklist for trans//cen//DANCE
1. Feels
2. Devotion
3. Crossroads
4. Take Your Chance
5. Intervention
6. Surrender
7. United
About NOA | AON
NOA | AON (real name, Pavel Stuchlik) possesses an unquenchable thirst for personal fulfillment and a drive that constantly propels him forward. After a life-threatening bout of the Epstein-Barr virus caused Stuchlik to quit his first career as a professional cyclist, he turned his attention to the world of business, launching Pavel's Vision, a successful enterprise selling carbon-fiber bicycle parts online. International real estate ventures soon followed, but Stuchlik was destined for America. Applying his lethal combination of charm, grit and a "never accept failure" ethic, Pavel was soon a leading franchise owner in OrangeTheory Fitness, the multimillion-dollar wellness franchise boasting more than 1,000 locations worldwide. By the age of 21, Stuchlik's net worth had already exceeded $1 million. With music therapy playing a major role in OrangeTheory Fitness' popularity, Stuchlik increasingly found his passion drawn to music and the neuroscience behind it. In late 2017, Stuchlik divested his shares in OrangeTheory (though he remains closely involved) and he is now fully focused on his latest career as a professional electronic dance music (EDM) DJ and producer under the alias, NOA | AON. As the DJ/performer NOA | AON, Stuchlik has performed at nightclubs in Atlanta, San Francisco, Los Angeles, Miami, Honolulu, Costa Mesa and beyond. As for music festivals, NOA | AON has performed at Burning Man in the Black Rock Desert, Nevada, and at Imagine Festival in Hampton, Georgia, with more on the horizon.
Listen to trans//cen//DANCE, here: https://www.noaaon.com/
For information on NOA | AON (Pavel Stuchlik), Andrew Rayel, FATUM, MaRLo, Ryan Farish, Maro Music (Marek Walaszek), Paul Damixie, NativeOrigin303, NKRIOT, and artists like Armin van Buuren, contact EMILY TAN Media Relations (U.S.), +1(917) 318-3758, EmilyEmilyTan(at)aol.com. Follow EMILY TAN Media Relations on Twitter @EmilyEmilyTan and LinkedIn http://www.linkedin.com/pub/emily-tan/4/342/70b.