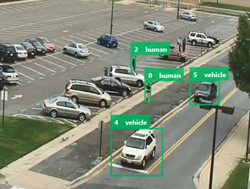 AI and edge computing are the new commuter vision battleground.
SAN JOSE, Calif. (PRWEB) January 05, 2018
IntelliVision, a pioneer and leader in AI/deep learning video and audio analytics software for Smart Cameras, today announced availability of its full product line of intelligent video analytics software on Ambarella's most advanced S5L IP camera SoC (System on Chip). The software will be demonstrated in the Ambarella booth at CES 2018 in Las Vegas.
"We have the most advanced AI and deep learning-based video analytics software in the industry so it makes sense to run it on the most advanced camera chipset," said Vaidhi Nathan, IntelliVision's CEO. "IntelliVision and Ambarella have been good partners for many years and this product combination strengthens our lead in AI and edge computing – the new computer vision battleground."
IntelliVision's AI/deep learning video analytics product line includes:

Face Detection, Recognition and Search
Intelligent Motion, Object Detection and Tracking
Intrusion/Perimeter Watch
Object Classification (People, Vehicle, Pet)
License Plate Detection and Recognition (LPR/ANPR)
Audio/Sound Recognition
IntelliVision's video analytics products are in use in over 3 million cameras around the world. IntelliVision has been named a Red Herring 2017 Global Top 100 Company and has been awarded Entrepreneurial Company of the Year 2017 in Security and Video Analytics by analyst group Frost and Sullivan.
About IntelliVision
IntelliVision is a market leader in AI and Deep Learning video analytics software for Smart Cameras, providing video analytics solutions for several markets including Smart Home/IoT, Smart Security, Smart Retail, Smart Business, Smart City and Smart Auto (ADAS). IntelliVision technology has been recognized as the Brains Behind the Eyes™ for many applications using cameras to analyze video content, extract metadata, send out real-time alerts and provide intelligence to other home, business and security systems. IntelliVision provides the largest suite of video analytics products in the market today. Its products are used by Fortune 500 companies, the US Government and many leading brands. IntelliVision is headquartered in San Jose, California with offices in Asia and Europe.
For more information, visit: http://www.intelli-vision.com
Email: info@intelli-vision.com
Phone: 408-754-1690