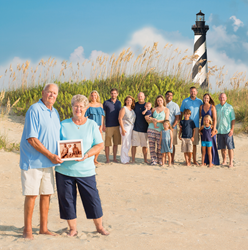 The authentic experience guests have vacationing on Hatteras Island is one that's hard to find these days.
HATTERAS ISLAND, N.C. (PRWEB) January 10, 2018
Surf or Sound Realty kicks off their 40th Anniversary year this January with the launch of an advertising campaign about family vacation traditions. In the span of the last 40 years, families have gathered annually along Hatteras Island's shores for their vacations and this year Surf or Sound Realty will be sharing those stories. https://vimeo.com/surforsound/40yearsofvacations
The laid-back beach lifestyle of Hatteras Island hasn't changed in all the years. It's still an environment that is tranquil, slow-paced, family-oriented and steeped in tradition and history.
"We hear it all the time. From the un-crowded beaches to the family-owned shops and restaurants, the authentic experience our guests have vacationing on Hatteras Island is one that's hard to find these days. The fact that we can offer a premier vacation home experience in our remote location on the beaches of America's first National Seashore is pretty special" said Ann Wood, Vice President of Sales and Marketing for Surf or Sound Realty.
That doesn't mean that progress has passed the island by. Rental homes have seen change with the addition of modern amenities and luxurious conveniences. Visitors who have gathered on the island for years have rented increasingly larger vacation homes to accommodate their growing families. New generations now carry on vacation traditions but with amenities their grandparents couldn't have imagined, like home theater rooms with stadium seating, private swimming pools with kiddie pools and swim-up bars, and outdoor entertainment areas with tiki bars.
Advances to technology have made an impact on the business as well. Booking a home once meant calling a reservation agent who "booked" guest reservations by logging them in an actual book. Now vacation homes can be reserved on SurforSound.com with just a few clicks at any time of day or night.
Now in their 40th year, Surf or Sound Realty represents over 430 premier vacation homes on Hatteras Island. With the largest inventory of oceanfront homes on the island, the company offers a variety of vacation rentals in all seven of the island's charming villages; from quaint soundside cottages to sprawling amenity-filled oceanfront estates. Commonly referred to as Cape Hatteras, Hatteras Island is located on the southern portion of the Outer Banks of North Carolina just south of Nags Head. To find the perfect vacation rental, visit their website at http://www.surforsound.com.