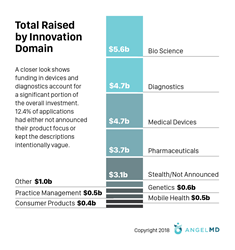 NAPA, Calif. (PRWEB) January 05, 2018
AngelMD collated public data and proprietary data from its network to provide deep insights into capital invested in Biotechnology, Pharmaceutical and Other Healthcare startups. The result is AngelMD's 2017 Private Investment in Healthcare Technology Report -- a comprehensive view of the medical specialties receiving the most attention and capital in 2017.
"The SEC reporting lists $9.2 billion invested in 'Other Healthcare', with an overall private investment increase of 15.5 percent over 2016," AngelMD CEO Tobin Arthur said. "This $25 billion figure for total investments is staggering when taken on the whole. This report provides our members, many of whom are physicians, a more detailed picture of both capital deployment and interest level broken down by medical specialty."
The report details not only a breakdown of offerings within medical specialties, but also highlights trends that appear in specific offering sizes. For example, Oncology is somewhat overrepresented at $7.4 billion in total investments, leading all other specialties by a wide margin. By refining the scope to the common startup size of $50 million and under, we see Ear, Nose & Throat-related investment at the top of average money raised, followed then by Gastroenterology. Cancer-related funding falls to ninth place in this subset.
"When you look at 'seed-stage' investments -- total funding under $2 million -- the picture changes again with a significant percentage invested in infectious diseases and pathology," said Arthur.
The report also gives geographic insight to investing. For instance, California-based healthcare startups dominated in 2017 at $7.16 billion; as much as the next five states combined.
AngelMD reviewed over 2,500 Form D submissions filed in 2017 as part of this report. The report first assesses the type of innovation (medical device, digital health, etc.). Just over 20 percent of the companies had a focus that was very broad -- such as Health IT or Practice Management. Overall, AngelMD was able to identify a specific clinical application and speciality addressed in 66 percent of the companies.
The full report is available to AngelMD members, but an infographic summarizing the data can be found online here.
About AngelMD
AngelMD is an investment and networking platform connecting innovative medical startups, physicians, investors, and industry partners. Leading physicians from all over the US have joined AngelMD to help source, evaluate and advise companies in biotechnology, medical device, and healthcare technology. For more information, visit http://www.angelmd.co.