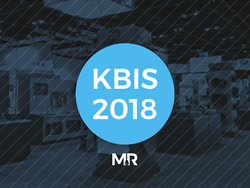 TOLEDO, Ohio (PRWEB) January 08, 2018
It's tangible – a display of real products under one roof for hands-on consideration. It's personal – an opportunity to learn and discuss business practices one-on-one with key leaders in the kitchen and bath industry. It's inspirational – an introduction to new business ideas, products, and design trends. It's KBIS 2018.
MR Direct is proud to participate, once again, in this prestigious show. Numerous models from each of the MR Direct sink collections and faucet lines will be on display. Additionally, several new products will be debuted. This year's show is being held in ever-friendly, Orlando, Florida; inside the beautiful and spacious Orange County Convention Center. It runs from January, 9–11, 2018.
Three ADA-approved, stainless steel sinks have been introduced this year by MR Direct. One is a spacious, single-bowl model in the 3/4″ radius line; another is also a single-bowl design, but with traditional, wide corners; and the third is an equal, double-bowl with broad, sweeping corners. All have a depth of just over five inches, providing ease of use for those with disabilities or limited mobility.
A stunning new line of vessel sinks for the bath, known as the "Artisan Ceramic" collection, has recently been launched. Each design is a genuine work of art, created by hand on the potter's wheel.
The ever-popular line of 3/4″ radius sinks has grown in many ways. Not only have several new models been added, but almost all now come in a choice of three thickness. In addition to the standard 18 gauge, MR Direct is now offering them in 16 gauge. And, previously unheard of in the residential market, these styles are now available in 14 gauge as well.
All of the existing undermount TruGranite sinks now come in a topmount form. One new model features a low divide between its equally sized bowls. MR Direct has also developed custom-fitted cutting boards, grids, and matching strainers and flanges for each TruGranite model.
Several other new models will be on display and available soon. One such standout is a stunning, new, apron-style sink made from bamboo. Likewise, the MR Direct Home Reality AR and VR apps will be on hand to experience. Expect to be impressed. MR Direct will be exhibiting in the West Building at booth #1185. Representatives will be on site to address any concerns. A visit to the MR Direct website, http://www.MRDirectint.com, provides full details on all products offered.