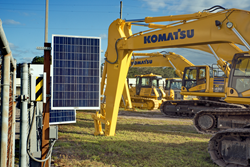 Thanks to an alert that came through from the AllGuard system, we were recently able to prevent a $180,000 USD bulldozer from leaving the yard without authorization or the right paperwork
Vancouver, British Columbia (PRWEB) January 08, 2018
GuardRFID and Linder Industrial Machinery have partnered to provide Linder with real-time inventory visibility, which allows tracking and location of high value assets to enhance productivity and accuracy. AllGuard automatically reports equipment leaving or returning to a yard, and providing continuous monitoring of equipment to prevent loss.
Linder provides a wide variety of new, used and rental equipment to fit customer needs across sixteen branch locations. The outdoor and remote locations create challenges for inventory tracking and security measure like fences, lights, and manual management are not the best solutions to prevent theft. These challenges mean that misplaced and stolen inventory is common. This, coupled with time spent by employees having to searching for equipment, resulting in increased costs for industrial operators.
This new partnership solves these challenges, as the AllGuard Yard Management monitors all equipment providing Linder with inventory insights and the ability to track their high-value assets in real-time.
Linder's President and Chief Executive Officer, John Coughlin, commented on the partnership stating, "The system provides an accurate view of the equipment we have at any of our facilities, enhancing our ability to serve our customers better, and ensuring we don't miss any business opportunities. The system allows us to locate equipment in our yards very rapidly, as we can look up its approximate location, saving labor time and providing a higher quality of service to our customers. We have already realized significant cost savings, after just a few months of using the system."
The AllGuard Yard Management Solution is a robust multi-purpose, real-time location platform designed to augment a business through the use of long-lasting rugged Active RFID tags, and a network of receivers. The tags are placed on equipment and monitored using both long-range, real-time location system (RTLS) and close-range portal detection within a single system. The system can be used to provide a real-time view of inventory across multiple yard sites, and in harsh environments, even those in remote locations without data connectivity or power, as they can be serviced using wide-area wireless networking, and solar power technology. Ultimately, AllGuard provides complete protection for a business against a wide range of operational issues.
Linder is committed to seeking solutions that will allow them to continue providing a high standard for delivering quality industrial machinery and through the partnership seeks to streamline current processes and reduce turnaround time. Prior to implementing this solution, the company was writing off $70,000 USD in equipment per year, and then purchasing additional equipment to rent, while the required items were already on site, having been returned unbeknownst to them. Such issues can now be eliminated, as all equipment can be effectively tracked and located using the AllGuard Yard Management system.
"Thanks to an alert that came through from the AllGuard system, we were recently able to prevent a $180,000 USD bulldozer from leaving the yard without authorization or the right paperwork", says Eric Strid, Linder's Director of IT. "This unit normally rents for $2800 USD weekly, and so we would have potentially lost revenue, and in the worst case we may even have lost the bulldozer, as lack of paperwork could also lead to a reduced sense of responsibility."
"We have been deploying yard management systems for some years", stated Zahir Abji, President and CEO of Guard RFID Solutions, "but with the introduction of our wireless, and solar powered infrastructure, adoption of our AllGuard Yard Management system has been increasing dramatically, as customers such as Linder no longer have to make significant investments in providing power and networking within their yards to reap the benefits of our system. These benefits result in major cost savings as well as revenue enhancements, providing them with rapid return on investment in our system."
###
About Guard RFID Solutions Inc.
GuardRFID is a proven expert in interoperable real-time location systems (I-RTLS) driving the next generation of security and compliance applications in healthcare, industrial and commercial environments. With indoor and outdoor installations around the world, the Company delivers the most robust multi-purpose real-time location platform with superior flexibility, interoperability and performance helping organizations achieve the protection, compliance and efficiencies they require when it comes to their people and assets – today and tomorrow. For more information, please visit http://www.guardrfid.com.
About Linder Industrial Machinery Co.
Linder Industrial Machinery Company sells off-road equipment for residential and commercial construction, highway construction, paving, aggregates and mining, landscape construction, forestry, demolition, agriculture, industrial, utility, government, and material handling markets in Florida, North Carolina, South Carolina, and Southeast Georgia. It provides milling machines, pavers, compaction products, crushing products, road wideners, construction products, demolition and scrap attachments, and brooms; parts, used parts, and equipment rental services; and oil and wear analysis program, re-manufacturing and rebuild program, and diagnostics and support program services.
Media Contact:
Aradhna Sharma
Marketing Specialist
GuardRFID Solutions Inc
604 343 3558