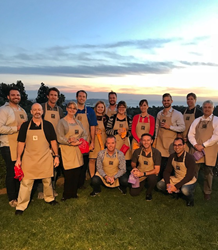 SAN DIEGO, Calif. (PRWEB) January 09, 2018
Lajollacooks4u announced today that it has achieved another major milestone: celebrating 10 years in business.
The San Diego-based team building and cooking events company came into fruition after Chef Jodi Abel experienced her first cooking class in the home of another self-taught chef in Umbria, Italy. In the two days she spent there, she was completely transfixed by the warmth and comfort of the intimate Umbrian home. And learning the chef's family recipes in a natural, hands-on environment heightened her passion for food and cooking more than she would have ever thought possible.
A few days later, Abel had an epiphany: she, too, could offer the same home-cooking experience out of her home in La Jolla, California. After all, the Italian-inspired villa she shared with her husband would serve as the perfect location for an intimate, yet elegant, gourmet foodie escape.
With the help of Abel's supportive family, Lajollacooks4u opened its doors in 2008. Now, ten years later, business is thriving and the company is one of the top attractions in southern California. In fact, Lajollacooks4u has received Trip Advisor's Certificate of Excellence three years in a row and has received over 250 five-star reviews on the site.
Lajollacooks4u has hosted guests from all over the world, and in order to accommodate the large demand in its services, recently expanded its offering to include team-building events of all sizes. Abel also recently published her first cookbook, Lajollacooks4u: California Cuisine, an accumulation of the favorite recipes her clients have been requesting time and time again.
"I'm so thrilled with the success we've achieved over the last decade," Abel said. "From where we started – with no marketing budget – to where we are now, is just incredible."
Lajollacooks4u looks forward to many more anniversary celebrations in the future as its footprint continues to grow as a leader in team-building events and corporate cooking challenges.
About Lajollacooks4u:
Lajollacooks4u is San Diego's premiere team-building and cooking events company. Founded in 2008, it has hosted companies from all over the globe, providing guests with a collaborative and one-of-a-kind culinary experience. With skilled facilitators, farm-to-table cuisine and a stunning view overlooking La Jolla, Lajollacooks4u has consistently been ranked one of the area's top attractions by Trip Advisor, having been awarded its Certificate of Excellence three years in a row.
For more information about the company's hands-on team building events and gourmet cooking classes, please visit http://www.lajollacooks4u.com.