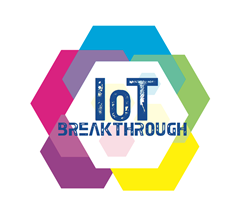 "We are honored to be recognized again by the IoT Breakthrough Awards as the M2M Embedded Hardware Company of the Year." ~ Jacob Babcock, CEO, NuCurrent
CHICAGO (PRWEB) January 08, 2018
NuCurrent, a leading wireless power system and magnetics solution provider, announces that the IoT Breakthrough Awards has named NuCurrent Machine-to-Machine (M2M) Embedded Hardware Company of the Year for the second consecutive year. The IoT Breakthrough Awards recognize the top companies, technologies and products in the global IoT market today.
The mission of the IoT Breakthrough Awards is to honor excellence and recognize the creativity, hard work and success in a range of categories, including connected home and home automation, connected car, IoT security, wearables, industrial IoT, M2M, enterprise IoT and many more. This year's program attracted more than 3,000 nominations, which were evaluated by an independent panel of experts within the IoT industry, including media, analysts, journalists and technology executives. The judges represent a range of senior-level experienced professionals, with hands-on experience in IoT product management and development, engineering, sales and marketing, and more. Other 2017 IoT Breakthrough Awards category winners include Intel, Cisco, Samsung, Sony and SAP.
"We are honored to be recognized again by the IoT Breakthrough Awards as the M2M Embedded Hardware Company of the Year," said Jacob Babcock, CEO, NuCurrent. "As engineers and product managers look to build advanced wireless power capabilities into their products, they continue to turn to NuCurrent because we have the core technology and systems integration expertise to bring products with superior wireless power performance to market quickly. Our industry-leading magnetics combined with our full-system design and integration capabilities give our customers a competitive edge with wireless power, helping them win in their markets."
NuCurrent was recently named a 2017 FLEXI Award winner (Product Innovation Award), 2017 Fourth Revolution Awards Finalist (Product Design of the Year), 2017 ITA CityLIGHTS Awards Finalist (Industry Disrupter), and 2016 IoT Breakthrough Awards winner (M2M Embedded Hardware Company of the Year). The company was also named a 2017 Timmy Awards Finalist (Best Technology Work Culture), 2017 Chicago Innovation Awards Finalist, and a Chicago Inno 2016 50 on Fire winner. NuCurrent was also named No. 1 on the 2015 Crain's Chicago Business Eureka Index with the highest per-capita patent output of any company in Illinois. The company was also listed in the top 10 percent overall in patent quality score, which considers the uniqueness of the invention covered by a patent and other important factors.
To view the 2017 IoT Breakthrough Awards winners, visit http://iotbreakthrough.com/winners. To learn more about NuCurrent, please contact info@nucurrent.com or visit http://nucurrent.com.
About NuCurrent
NuCurrent is a leading developer of high-efficiency wireless power solutions including magnetics and full-system integration. They help customers get to market quickly, with more certainty and with better performance. Whether customers want proprietary solutions or compliance across the Wireless Power Consortium (Qi) or AirFuel AllianceTM, NuCurrent works closely with electronic device OEMs and integrators to determine the best implementation of wireless power for their product and deliver that solution through custom-design, rapid-prototype, advanced simulation, and superior performance. NuCurrent's patented technology, proprietary tools and design techniques mitigate typical high frequency effects, offering higher efficiency, smaller sizes, higher durability, and lower total cost for wireless power system implementation. Based in Chicago, NuCurrent has been defining the leading edge of wireless power design since 2009 and has over 65 patents granted or pending worldwide. For more information, visit http://nucurrent.com and follow us on Twitter at @NuCurrentTweets.