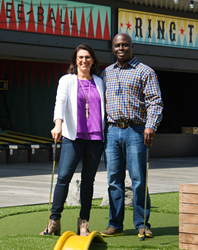 "The GRA's Chair and Board members will carry out the mission to protect and promote Georgia's second-largest private sector employer," said Karen Bremer, CEO of the Georgia Restaurant Associa
Atlanta, GA (PRWEB) January 08, 2018
The Georgia Restaurant Association (GRA) taps Kelvin Slater, Founder of Slater Hospitality, as the 2018 Chairman of the Board. Slater comes with over 30 years of experience in the foodservice industry starting out as a line cook and working his way up to owning his own business.
Under his current role, Slater and his wife, Mandy, own and operate Skyline Park, a nostalgic carnival-themed amusement park on top of Ponce City Market Rooftop, Nine Mile Station, a modern beer garden with a panoramic view of the Atlanta skyline, and soon-to-come RFD Social, a restaurant concept opening in the rooftop tower of Ponce City Market. Before Slater Hospitality, Slater and his wife conceptualized and owned a pizza joint called Blue Moon Pizza.
As Chairman of the Board for the GRA, Slater will serve as the chief spokesperson for the industry, on behalf of the association and lead the GRA Board of Directors in their efforts to continue protecting industry operator's needs and interests. The Chairman of the Board also partakes in several GRA events throughout their term including the Taste of Georgia Legislative Reception, the GRA Golf Tournament, GRACE Awards Gala and PAC the Rooftop, which will be hosted by Slater at Skyline Park at Ponce City Market.
The GRA also welcomes 8 new Board Members for 2018. Among those joining the board are hospitality leaders, such as Debby Cannon who is the Director for the School of Hospitality at Georgia State University. Several restaurateurs joined the board including Reggie Coachman, Vice President of Brand Operations at Cinnabon, Jay Kazlow, President and CEO of Dantanna's Restaurants, Wilson Oswald, Director of Beverage at Ruth's Chris Steak House, and Jessica Rothacker, founder of Heirloom Café. The GRA also welcomed industry partners such as Trey Edwards, President of PSG Construction, Matt Mallory, President at Mallory Agency, and Cody Hicks, President at Atlanta Eats.
"We firmly believe that our new Board members, newly appointed Board Chair, and our current roster of Board Members will continue to carry out the mission of the Georgia Restaurant Association to protect and promote Georgia's second-largest private sector employer," said Karen Bremer, CEO of the Georgia Restaurant Association. "Their combined experiences and expertise in the foodservice industry will help strengthen the GRA's impact and awareness to elected officials and restaurateurs around the state."
About the Georgia Restaurant Association
The GRA's mission is to serve as the voice for Georgia's restaurants in advocacy, education and awareness. The GRA is sanctioned by the National Restaurant Association to operate Georgia's only not-for-profit representing the state's foodservice industry. The GRA serves as the unified voice for over 17,900 foodservice and drinking places in the state of Georgia with total sales in excess of $19.6 billion which provides more than 446,600 jobs, 10 percent of the state's employment. The GRA provides service to a membership of over 4,000 restaurant units.
For media inquiries, please contact Rachel Bell, director of marketing and communications, at (404) 467-9000