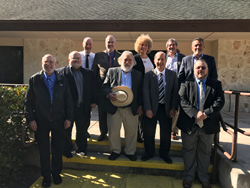 Jewish Spiritual Leaders' Institute welcomes its 130th Rabbi at the ordination of Class #14.
(PRWEB) January 09, 2018
Sim Shalom Online Synagogue grants semicha to eight JSLI-trained Rabbis on January 6, 2018. As part of a holy ordination and shabbaton weekend in Delray Beach, Florida Rabbi Steve Blane and the Bet Din welcome new Rabbis from across the US and Canada to the family of 130 Rabbis trained by the Jewish Spiritual Leaders' Institute.
JSLI is the only fully online rabbinic program for Jewish professionals. This newest 14th Class reflects the diversity and richness of the Jewish Spiritual Leaders' Institute ordaining as Rabbis an author, two Cantors, a pulpit spiritual leader, a synagogue administrator, a hospice chaplain and the son of Holocaust survivors. This dynamic group brought their wealth of life experience to the program and along with Rabbi Blane and other teachers explored contemporary topics facing the modern Jew - many of whom are unaffiliated and disconnected from Judaism.
"We have a mandate to help the unaffiliated connect to their Jewish heritage and welcome them and interfaith partners with a Jewish Universalist vision for the future,." notes Blane. The new group of Rabbis are excited to fulfill this mandate and pursue their individual paths to creating Tikun Olam, "repairing the world."
About Sim Shalom and JSLI
Sim Shalom is an interactive online Jewish Universalist synagogue which is liberal in thought and traditional in liturgy. Created in 2009 by Rabbi Steven Blane on Manhattan's Upper West Side, Sim Shalom offers a means of connecting the unconnected. Rabbi Blane leads accessible and short Shabbat services every Friday night using a virtual interface and additionally Sim Shalom provides online education programs, Jazz concerts, conversion and life-cycle ceremonies along with weeknight services at 7:00PM EST led by Rabbis and students of this online community.
Rabbi Blane is also the founder and director of the Jewish Spiritual Leader's Institute,
http://www.jsli.net, the online professional rabbinical program.
Sim Shalom, a non profit 501 © (3) tax-exempt organization, nurtures a Jewish connection through its mission of innovative services, creative education and dynamic outreach to the global community. For more information visit http://www.simshalom.com or call 201-338-0165.