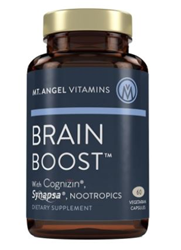 Simple Proactive Wellness
NEW YORK (PRWEB) January 08, 2018
Life can be mentally exhausting, especially during the holiday season. Balancing work, home, socializing, and shopping take their toll on the brain. Add to those the mucky air that can accompany winter and you have a perfect brain-busting storm.
Mt. Angel Vitamins helps calm the storm with Brain Boost™, a daily dietary supplement containing Cognizin® Citicoline. Cognizin® provides vital nutrients for brain cells and protects neurons from free radical damage caused by toxins in food, drinks, and the air.*
"We've coupled our NOOtropic DMAE proprietary blend with Cognizin® to super-charge brain power and provide anti-aging neuroprotection for better mental concentration," said Rob Ugianskis, CEO. "Brain Boost™ also contains Bacopa monnieri—commonly known as water hyssop—in the form of Synapsa™ to help improve visual processing, learning, and memory."
Cognizin® is a patented form of citicoline, a naturally occurring nutrient produced by the brain. Citicoline is critical for healthy brain function and supports cognitive health as well as boost energy. Clinical studies show Cognizin® provides vital nutrients that help the brain stimulate electronic impulses, maintain healthy neurons and protect them from free radicals.*
Brain Boost™ is non-GMO and gluten-free. Mt. Angel recently adopted its Simple Proactive Wellness approach to packaging by uncluttering labels and using easily understood condition-specific language identifiable by both seasoned supplement users and new customers. For more information, visit https://www.mtangelvitamins.com/products/brain-boost-supports-brain-performance-60-vegetarian-capsules/.
About Mt. Angel Vitamins
We bring a simple, proactive approach to reaching and maintaining optimal health and well-being. Our products are designed to make vitamins and supplements simple again so you can confidently continue on your path to complete health and wellness. From formulas to labels, we have everything you need and nothing you don't. That leaves you more time to focus on what matters in life, whether that's family, work, or training for that 10K. For more information, visit https://www.mtangelvitamins.com/.
About Cognizin
Cognizin® Citicoline, manufactured by Kyowa Hakko Bio Co., Ltd., is a clinically studied and patented form of Citicoline, a natural substance found in every cell of the body and especially vital to brain health.* Citicoline is a potent brain-health nutrient. A proprietary form of citicoline, Cognizin® has been clinically studied to support mental energy, focus, attention, and recall. Cognizin is manufactured through a patented fermentation process to yield high quality and high purity. Cognizin is also highly stable, GRAS, ultra-pure and allergen-free. For more information on Cognizin, visit Cognizin.com.
About Kyowa Hakko USA
Kyowa Hakko USA is the North & South American office for Kyowa Hakko Bio Co. Ltd., an international health ingredients manufacturer and world leader in the development, manufacturing, and marketing of pharmaceuticals, nutraceuticals and food products. Kyowa is the maker of branded ingredients including Cognizin® Citicoline, Pantesin® Pantethine, Setria® Glutathione, as well as Sustamine® L-Alanyl-L-Glutamine. For more information visit Kyowa-USA.com.
*These statements have not been evaluated by the Food and Drug Administration. This product is not intended to diagnose, treat, cure, or prevent any disease.