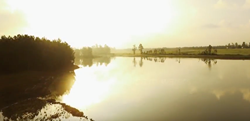 SPRING, Texas (PRWEB) January 09, 2018
Falls at Imperial Oaks has unveiled the Lake Holcomb Recreation Area, a 100 acre lake and system of walking trails on the Southeast side of the expansive development. The spectacular lake will be the homesite of the proposed $13 million dollar Holcomb Family YMCA facility, situated off Imperial Promenade near the Grand Parkway.
The opening of Lake Holcomb was kicked off Veterans Day weekend with the inaugural Explore The Falls Race, a family-friendly event taking participants on a 10K trail run around the picturesque lake or a 5K flat course through the neighborhood. The race also included a 1K fun run for kids, live music, food and prizes, making for a wonderful time for both adults and children.
Lake Holcomb is the latest addition to the breathtaking natural beauty of the award-winning and amenity-rich community. Falls at Imperial Oaks features many pocket parks and lakes throughout the development. Miles of walking and greenbelt trails wind through the subdivision, with wooded preserves surrounding the area. Newly-opened Woodson's Gully offers 44 acres of native plants and local wildlife, directly across from the Falls' newest recreation center, the Retreat.
The extension of Imperial Promenade Drive allows for additional retail and commercial development in the future. All of this expansion will occur in the area surrounding Lake Holcomb, providing a scenic setting for restaurants and entertainment. The extension provides access to undeveloped portions of Falls at Imperial Oaks, with fewer than 100 acres of land left for commercial use. The extension of Imperial Promenade Drive also gives Falls residents access to Lake Holcomb amenities and a future parking lot for easy entry to the recreation area for kayaking, canoes, and fishing. Remaining sections of new homes for sale could be fully built out as soon as 2020.
Falls at Imperial Oaks is known for the active lifestyle its residents enjoy, with over 50 community events each year coordinated by a dedicated Lifestyle Director. In addition to scheduled events, the community provides an impressive variety of recreational options for residents. A new soccer field recently opened, adding to existing amenities such as a dog park, lighted tennis courts, and a state-of-the-art fitness center.
As the population of Montgomery County continues to experience explosive growth, the Falls at Imperial Oaks development continues to be a shining example of what homebuyers want from a subdivision. The Lake Holcomb recreation area and walking trails are the latest reflection of the continued enhancement of the award-winning luxury community.
About Falls at Imperial Oaks:
Falls at Imperial Oaks is the premier master-planned community in the Spring area, situated minutes from the Woodlands along two entrances to the Grand Parkway. The award-winning development features new construction homes from the nation's top builders, within the acclaimed Conroe ISD. To see the how much better life can be, visit http://www.fallsatimperialoaks.com or call 832-813-7170 to schedule a tour.