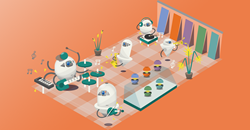 Soundwhich is a new way to empower the public to create personalized songs rather than settling for mediocre tunes from a royalty-free music library
SAN FRANCISCO (PRWEB) January 08, 2018
San Francisco-based music technology developer Varidada Inc stepped up to change history in 2017 when the team led a massive global campaign coded "Soundwhich" in an effort to build the world's largest song database in the short time period of only 100 days. The campaign included the help of 100 musicians from across the world. Between September 2017 and December 2017, these 100 musicians joined forces to compose as much music as possible within the hundred-day time period. The result? The campaign ended with the composition of more than 100 billion unique songs!
This amazing feat was made possible through the use of a new concept called "musical guideline". To be included in the Soundwhich campaign, each of the hundred musicians had to compose their instrument ingredients according to this musical guideline. The musical guideline is a set of parameters such as key, tempo, chords, and song structure. All instrument ingredients in the music guideline can be mixed together without additional coordination to form songs.
Artists now heralding Soundwhich as the future of music collaboration; however, Soundwhich's creator Roger Chen takes the concept a step farther. Rather than just expecting Soundwhich to help musicians, Mr. Chen believes that it will affect the entire public.
With the use of video streaming and online advertising on the rise, the need for royalty-free music has been growing more and more every year. Mr. Chen explained that the technology used through Soundwhich can make the video process much easier by providing unique songs that are based on each brand's specific needs. With its easy-to-use platform, Mr. Chen looks to Soundwhich as a new way to empower the public to create personalized songs rather than settling for mediocre tunes from a royalty-free music library.
If you're interested in listening to some of the 100 billion songs composed through Soundwhich or want to create a custom song of your own, you can visit https://www.soundwhich.com