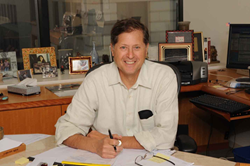 CHICAGO (PRWEB) January 09, 2018
MPN Research Foundation announced today with great sadness the passing of its Chairman and Founder, Robert Rosen, age 74. Diagnosed with polycythemia vera in 1997, Rosen was shocked to discover that little research was being conducted on his condition and that there were no advocacy groups working to assist people with these rare blood cancers. Polycythemia vera (PV) is one of a cluster of blood cancers known as myeloproliferative neoplasms (MPNs), which includes PV, essential thrombocythemia (ET) and myelofibrosis (MF).
In 1999 Rosen, an established and highly successful Chicago businessman, formed the MPN Research Foundation to catalyze research and advance treatments for MPN patients. To date, Rosen's MPN Research Foundation has awarded in excess of $12 million in MPN funding that has led to over 60 MPN-focused research projects, the advancement and development of new drug therapies, the publication of cutting edge research in numerous peer-reviewed scientific journals and the development of much needed patient advocacy initiatives, including effective outreach to the U.S. Food and Drug Administration, and highly beneficial education tools for the MPN community.
Andrew I Schafer, M.D., Director of the Richard T. Silver Center for Myeloproliferative Neoplasms (MPNs) at Weill Cornell Medical College, stated, "Because of Bob Rosen's relentless tenacity, intense work ethic and limitless optimism, the MPNRF has been involved in every major scientific and medical advancement in the field of MPN research. Bob and the MPNRF have made immeasurable differences in the lives of people living with MPNs, the physicians who care for these patients, and the researchers who continue to search diligently for a cure."
"There are no words to describe our sense of loss over Bob's passing," added Barbara Van Husen, MPNRF's President and long-time friend of Rosen. "Our best and most significant tribute to Bob will be our continued efforts to accelerate and fund innovative research, create greater connectivity and resources for improving the lives of patients, and ultimately discover a cure for families living with an MPN. This was Bob's mission and I'm confident that the MPNRF is in a strong position both professionally and financially to succeed with his goal."
Bob's daughter Molly Rosen Guy, also a director on the MPN Research Foundation board, said "Dad sought the only available curative treatment – a stem cell transplant - which is fraught with complications and often unsuccessful. His death is further evidence of the unmet need to find better ways to improve and extend the lives of patients with polycythemia vera and other blood cancers. Our work will continue." A video produced by Molly about Bob's diagnosis and her entry to the board can be seen here.
About the MPN Research Foundation
Founded by patients for patients, the MPN Research Foundation is a catalyst for research funding in pursuit of new treatments – and eventually a cure – for myeloproliferative neoplasms (MPNs). To date, the MPNRF has funded more than $12 million in MPN research.
Research funding is only part of what we do. The MPNRF is also dedicated to helping people living with MPNs change their prognosis by serving as a valuable source of education and resources in the MPN community.