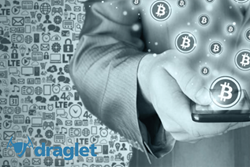 Blockchain technology is currently disrupting the world on a global scale...
Jupiter, FL (PRWEB) January 09, 2018
In an upcoming episode of Innovations w/ Ed Begley Jr., the award-winning producers will explore the latest advances in blockchain technology applications and solutions. This episode is slated to air first quarter 2018 on FOX Business. Check your local listings for more information.
The show will focus on draglet, a blockchain service provider with years of experience, dating back to the beginning of Bitcoin and Ethereum technology. Viewers will learn how draglet's initial coin offering platform differs from other standard implementations, and will be educated about real smart contracts applications, as well as its white-label exchange software, which is currently utilized by over 20 cryptocurrency exchanges worldwide.
"Blockchain technology is currently disrupting the world on a global scale. New innovations emerge on a weekly or even daily basis which altogether propels the cryptocurrency industry to reach new heights. We are fortunate to have been involved in the crypto business for such a "long" time and therefore are very excited about how things have been developing this year. Taking part in the Innovation series is an honor for us. It is the icing on the cake and we are very happy that we have been given the opportunity to work with such a renowned production company and tell the world more about what we do," said Benjamin Bommhardt, Sales Director at draglet.
"With customizable exchange software, the experienced experts at draglet specialize in developing tailored blockchain powered applications," said Michael Devine, Senior Producer for the Innovations series. "We look forward to exploring this topic."
About draglet:
Founded in Munich 2013, draglet specializes in developing tailored blockchain software solutions. The team members at draglet draw from years of experience and have developed a large number of different blockchain applications for various enterprises. draglet's blockchain products are organized into 3 segments: white-label exchange software, ICO implementation for businesses, smart contract development, and blockchain consulting. For more information, visit: http://www.draglet.com
About Innovations and DMG Productions:
Innovations, hosted by award winning actor Ed Begley, Jr., is an information-based series geared toward educating the public on the latest breakthroughs in all areas of society. Featuring practical solutions and important issues facing consumers and professionals alike, Innovations focuses on cutting-edge advancements in everything from health and wellness to global business, renewable energy, and more.
DMG Productions (responsible for creating the Innovations show) includes personnel specialized in various fields from agriculture to medicine, independent films to regional news and more. Field producers work closely with experts in the field to develop stories. This powerful force enables DMG to consistently produce commercial-free, educational programming that both viewers and networks depend on.
For more information visit http://www.InnovationsTelevision.com or call (866) 496-4065.