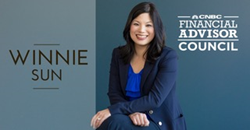 "Winnie has a stellar reputation in the advisor industry. Additionally, her client-centric approach aligns perfectly with the news coverage at CNC," -Jim Pavia, money editor for CNBC Digital
LOS ANGELES (PRWEB) January 10, 2018
Business news cable channel CNBC has named financial advisor and online columnist Winnie Sun to its prestigious Digital Financial Advisor Council.
Sun, co-founder and managing director of Irvine, Calif.-based Sun Group Wealth Partners and one of the most followed financial experts on social media, joins the council of 20 experts who will contribute guest columns and video content over the next 24 months. She and other council members also will provide insights and frontline perspective to the CNBC Digital news team.
"I am always looking to bring on new council members who can help provide great value and assist the CNBC edit teams," said Jim Pavia, money editor for CNBC Digital.
"Adding Winnie Sun to this group of high-level advisors was a no-brainer," said Pavia, who created the advisor council five years ago.
The goal in assembling the group of wealth management professionals is to provide investors with straightforward, informative and relevant content that makes investment terms and strategies more transparent and helps them navigate the multitude of complex investment options and strategies.
"Winnie has a stellar reputation in the advisor industry. Additionally, her client-centric approach aligns perfectly with the news coverage at CNC," Pavia said. "Winnie looks to provide her clients with the best investment advice and financial planning and we look to provide the CNBC audience with smart and useful personal finance content."
"To say I'm honored and grateful is an understatement," Sun said.
"Jim Pavia is a leader that I've been wanting to work with for years," Sun said. "He has big plans for the council and I can't wait for you to see what we'll be sharing."
Also joining the council this year are Douglas A. Boneparth, president and founder of Bone Fide Wealth; Marguerita M. Cheng, chief executive officer at Blue Ocean Global Wealth, and Ted Jenkin, CEO and founder of oXYGen Financial.
Readers can connect with the CNBC Digital Financial Advisor Council by following the hashtag #CNBCFACouncil.
CNBC is owned by the NBC Universal News Group and provides a schedule of programs featuring business news and financial markets information.