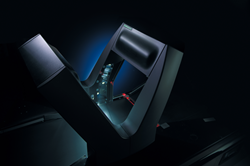 EUGENE, Ore. (PRWEB) January 09, 2018
Datalogic, a global leader in automatic data capture and industrial automation markets, will be debuting new retail technology at the National Retail Federation (NRF) Big Show 2018 at booth 3135. Every year Datalogic brings innovative technology, products and solutions proving that Datalogic is at the heart of every retail transaction. At NRF 2018 in New York City, Datalogic will display new Vision and RFID retail technology.
Datalogic will show new vision checkout technology that provides frictionless checkout. This technology demonstration uses the latest vision systems and image processing to allow shoppers to quickly and easily execute transactions. Applications for this technology include quick-service, self-serve, convenience, grocery retail, concessions and much more. Retailers looking for a glimpse into the future of retail checkout will want to experience this new checkout technology personally at the Datalogic booth, 3135.
Datalogic will also demonstrate the Jade™ X7 automated scanning portal with new proprietary, integrated RFID technology. This new technology was developed specifically to aide online retailers and omni-channel retailers with order fulfillment and reverse logistics. The demonstration will illustrate the power of coupling bar code technology and RFID technology to maximize customer satisfaction during order fulfilment. Another application of this new technology is reverse logistics where bar code scanning and RFID can dramatically reduce expenses for online retailers and third party logistics providers when processing returned merchandise.
Visitors are invited to see and experience these new technology displays and enjoy a fresh coffee beverage at the espresso hospitality area. Datalogic product managers, sales executives, and senior managers will be on hand to provide details and answer questions regarding these new technology demonstrations.
Retail's Big Show, NRF 2018 takes place January 14 - 16, 2018 in the Jacob K. Javits Convention Center in New York City. Mark your calendar and make plans to visit Datalogic at booth 3135.
***
Datalogic is a global leader in the automatic data capture and process automation markets, specialized in the designing and production of bar code readers, mobile computers, sensors for detection, measurement and safety, RFID vision and laser marking systems. Datalogic solutions help to increase the efficiency and quality of processes in the Retail, Manufacturing, Transportation & Logistics and Healthcare industries, along the entire value chain. The world's leading players in the four reference industries use Datalogic products, certain of the attention to the customer and of the quality of the products that the Group has been offering for 45 years. Today Datalogic Group, headquartered in Bologna (Italy), employs approximately 2,700 staff worldwide, distributed in 30 countries, with manufacturing and repair facilities in the USA, Brazil, Italy, Slovakia, Hungary and Vietnam. In 2016 Datalogic had a turnover of 576.5 million Euro and invested over 50 million Euros in Research & Development, with an asset of more than 1,200 patents in multiple jurisdictions. Datalogic S.p.A. is listed in the STAR segment of the Italian Stock Exchange since 2001 as DAL.MI. More information about Datalogic at http://www.datalogic.com.
Datalogic and the Datalogic logo are registered trademarks of Datalogic S.p.A. in many countries, including the U.S.A. and the E.U. Jade is a registered trademark of Datalogic USA, Inc. in many countries including the USA and EU.