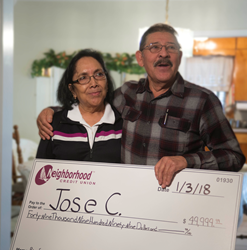 To find out this is real is a true gift from God
DALLAS (PRWEB) January 10, 2018
Exercising financial discipline can reap unexpected rewards, one Rowlett retiree learned this week.
Jose C. (whose name is being abbreviated to protect his identity) opened his door early Wednesday morning to find several Neighborhood Credit Union team members on his porch, with a giant "check" for $49,999.99 in his name. He, along with his wife, Antonia, and daughter, Elizabeth, were very surprised to learn that their credit union would be depositing $49,999.99 into his account by the end of the day.
Jose said he was skeptical when he got a call from Neighborhood Credit Union telling him they wanted to bring him a prize.
"I was pretty suspicious when I got the call that I was going to win something," Jose admitted with a chuckle. "I thought about hiding in the yard or maybe even calling the police."
"To find out this is real is a true gift from God," he said. See the video of the surprise delivery here.
Jose's name was drawn on New Year's Day from the ranks of Neighborhood Credit Union members who have a Prize Savings Account, a special account created by the not-for-profit credit union to encourage more people to save money. Neighborhood Credit Union rewards good saving habits with prize drawings throughout the year, culminating with the $49,999.99 Grand Prize at the beginning of each new year.
The father of six turned 76 in November and has been a member of the credit union for about 10 years. He retired three years ago, after a 38-year career with Dallas-based GAF, which manufactures roofing shingles. Though his savings are modest, he has been consistent about living within his means and planning for the future. Wednesday's Grand Prize deposit multiplied his Prize Savings Account balance more than six fold.
How the Prize Savings Account works: Neighborhood Credit Union members receive one drawing entry for every $25 monthly average balance in their Prize Savings Accounts. The greater the savings, the greater the chance a member has of winning. Members are eligible for weekly $1,000 drawings and quarterly $10,000 drawings. At the conclusion of each year, a Grand Prize winner is drawn for the $49,999.99 jackpot based on the average monthly balance in the savings account at the close of business December 31.
About Neighborhood Credit Union: The oldest credit union in Dallas (chartered April 18, 1930), Neighborhood Credit Union is a not-for-profit financial organization serving Dallas, Denton and Ellis counties, as well as the city of Arlington. With branches in Oak Cliff, North Dallas, Richardson, Arlington, Mesquite, Duncanville, Waxahachie, Lancaster, Grand Prairie, Coppell, Downtown Dallas and now Highland Village, and assets topping $600 million, Neighborhood Credit Union has a membership of 49,000 and continues to welcome new members daily. For more information, call (214) 748-9393 or visit http://www.myncu.com.