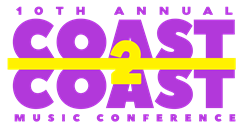 Miami Beach, FL (PRWEB) January 10, 2018
This Labor Day Weekend, Coast 2 Coast LIVE will host its 10th annual Music Conference, where independent artists will fly in from all across the U.S. and Europe to network, attend industry panels, and compete for the grand prize of $50k, a record deal, and more. Last year, up-and-coming singer by way of Virginia, Becky Cane, took home the grand prize of $25K!
Past panelist from the Coast 2 Coast Music Conference include:

Cardo (Grammy nominated and multi-platinum producer for Kendrick Lamar, Drake, Wiz Khalifa)
Success (A&R for Atlantic records)
Bigga Rankin (Legendary DJ and Record Breaker)
Steve Lobel (music consultant)
Earl Johnson (A&R for Rostrum Records)
Rockwilder (Grammy winning producer for Jay-Z, 50 Cent)
Andrew Grant (A&R at Warner Music Group)
Recently, Coast 2 Coast LIVE shared a recap of this past year's music conference, which can currently be viewed online. Artists interested in competing in a Coast 2 Coast LIVE event, to win chance to compete for $50k at this year's music conference, can visit the Coast 2 Coast LIVE events page.
Early Bird Registration for the 2018 Coast 2 Coast LIVE Music Conference is currently available on the official conference website until June 1.
About Coast 2 Coast LIVE:
Coast 2 Coast LIVE is the largest artist showcase in the world and tours the country looking for the next stars in all musical genres using our patented interactive platform. Coast 2 Coast LIVE puts the artist in front of celebrity judges to showcase their talents, while the judges give scores and feedback live via our interactive judging system on iPads, allowing artists to instantly get feedback on their performance and music from experts in their craft. Our events are open to all artists, just submit your music at coast2coastlive.com for the next event in your area, get votes from your fans, and if selected you can perform at our event, sell tickets, and win the grand prize package!
About Coast 2 Coast Music Conference:
The Coast 2 Coast Music Conference is an annual networking event bringing together top industry DJs, producers, A&Rs and more to speak on panels and give practical advice to artists. All of this leads up to our World Championships showcase, where the top performer of the year will be crowned & awarded a huge cash prize! http://coast2coastconvention.com/