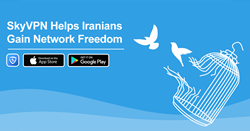 We are deeply impressed by the spirit of Iranians to pursue freedom. Because of this, our team decided that SkyVPN will be completely free for Iranians from now on!
SAN JOSE, Calif. (PRWEB) January 11, 2018
The Iranian officials have blocked Instagram and Telegram in their country this week. Now the government has banned almost all the social networking services - Facebook, Twitter, Youtube. What's worse, there are many reports showing that the Iranian government has also restricted people to accessing thousands of websites of the Europe and the United States, especially the international media.
What's happening? – 20 people died
Iran is in the throes of one of the largest anti-government protests in recent memory. During the course of this event, at least 20 people have died (through 2018/01/02). The protest started in Mashhad (the second largest city) as a small, local gathering about the economic problems that citizens were facing. Soon, though, it spread, and spread quickly, into other regions of the Iranian state.
How has the government reacted? – Block the network
On Sunday, an Iranian official said that although people had the right to demonstration and freedom of speech, he condemned the action as, "violence and destruction of public property." Meanwhile, the government blocked Instagram, Telegram and other social media apps and websites to prevent people from spreading the information and images of the protests across the country and around the world.
We are shocked and saddened by all that is happening in Iran. In the 21st century (aptly named "The Information Age"), everyone in the world should have the right to know about our world, share information with others, and enjoy the freedom of information, no matter where they live.
How the Iranians protect their freedom of information?  – Use SkyVPN
One of the best methods to bypass internet restrictions is to use VPN. A VPN tool such as SkyVPN is now the must-have app for Iranians who want to stay informed and in-touch with others. SkyVPN is also popular in the United States where it is ranked #11 among productivity apps in the iOS Store (2017 Dec. 14). With SkyVPN, Iranians have a great opportunity to express what happened in their country these past few weeks. What's more, they can reestablish connections with the countries around them, share information, express their feelings, exchange opinions with others, and find beauty in the world again.
What did SkyVPN Inc. do? – SkyVPN will be completely free for Iranians
Tens of thousands of Iranian citizens have downloaded SkyVPN daily since the protests began. A representative of SkyVPN had this to say:
"We are deeply impressed by the spirit of Iranians to pursue freedom. Because of this, our team decided that SkyVPN will be completely free for Iranians from now on!"
What is VPN?
A VPN, or virtual private network, extends a private network across a public network and enables users to send and receive data as if their computing device were directly connected to the private network. Applications running across the VPN may therefore benefit from the functionality, security, and management of the private network. With rapidly increasing restrictions and surveillance, VPN can be beneficial for many different users.
Here are the four main functions:
1. Gain access to restricted content.
2. Bypass web censorship and content surveillance.
3. Establish secure communication between sites.
4. Use public or hotel Wi-Fi securely.
About SkyVPN
SkyVPN is a VPN tool that allows you to access all apps and websites and protect your online privacy with the fastest VPN servers. Use it on your iPhone, iPad, Android, Mac or Windows.
Features of SkyVPN:
Surf anonymously and privately.
Easy, fast and stable.
Unlimited free VPN, no payment required.
Global VPN servers located around the world (U.S., U.K., Japan, H.K., and many more).
Available across multiple devices: Android, iPhone, iPod, iPad, Mac.
References
THE DAILY CALLER, Jan. 2, 2018, At Least 20 Dead As Iran Uprising Stretches Into Sixth Day
http://dailycaller.com/2018/01/02/at-least-20-dead-as-iran-uprising-stretches-into-sixth-day/
THE GUARDIAN, Jan. 2, 2018, Iran protests: how did they start and where are they heading?
https://www.theguardian.com/world/2018/jan/02/iran-protests-how-did-they-start-and-where-are-they-heading
USA TODAY, Jan. 2, 2018, Everything you need to know about the Iran protests
https://www.usatoday.com/story/news/world/2018/01/02/everything-you-need-know-iran-protests/995242001/