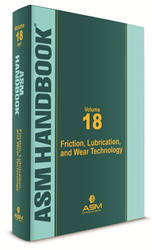 MATERIALS PARK, Ohio (PRWEB) January 16, 2018
The 2017 edition of ASM Handbook, Volume 18: Friction, Lubrication, and Wear Technology has undergone a significant expansion and revision of coverage by a new group of global experts. The new edition builds on articles devoted to specific friction- or wear-critical components supported by coverage of the fundamental physical principles of friction, lubrication, and wear. In addition to basic concepts, methods of lab testing and analysis, materials selection, and field diagnosis and monitoring of friction and wear are also covered. Volume 18 has been updated with numerous material and technology developments on coatings, lubrication, tool and die wear, and a number of typical tribological components or classes of components. While it is impossible to include all of the types of moving mechanical assemblies that pose tribological challenges, Volume 18 emphasizes a broadly-applicable, structured approach in analyzing complex tribosystems involving thermal, mechanical, materials, and chemical influences.
Engineers, researchers, analysts, materials scientists, and students will find in-depth practical insights, development trends, and solutions for improved engineering performance through informed materials selection, lubrication use, design, operation, and employment of surface treatments and coatings. The sections on solid friction, lubricants and lubrication, and wear and surface damage contain basic physical principles that help to introduce the materials-oriented professional to established concepts in tribology. The Handbook is also intended for use by individuals with a background in mechanics or lubricant chemistry seeking information on trends and developments on materials and coatings.
ASM Handbook, Volume 18: Friction, Lubrication, and Wear Technology ($297.00, $225.00 ASM Members, 1108 pages, hardcover ISBN: 978-1-62708-141-2, eBook EISBN: 978-1-62708-142-9) is available at http://www.asminternational.org/hbvol18 or by calling the ASM International Service Center at 800.336.5152.
ASM International engages and connects materials professionals and their organizations to the resources necessary to provide professional development and to improve materials performance. As the world's largest and most established materials information society, ASM engages and connects members to a global network of peers and provides access to trusted materials information through reference content and data, education courses, international events, and applied research.
To learn more about ASM International, visit asminternational.org or call 440.338.5151 to speak with an ASM International representative.