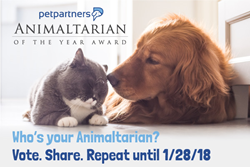 "Since the Contest's inception in 2014, we are amazed and thrilled at the exceptional candidates who are dedicated to supporting animal welfare. This year is no exception and we wish everyone the best."
RALEIGH, N.C. (PRWEB) January 10, 2018
Candidates for the 4th annual Animaltarian of the Year Award Contest began competing for public votes, announced PetPartners, Inc. The Contest, which awards the winner $5,000, was created to raise awareness and awards extraordinary individuals and organizations who support animal welfare throughout the United States.
The 2017 Animaltarian entries spanned coast to coast, with submissions from individuals and organizations from California to New York and even Puerto Rico. The public is invited to vote for their favorite submission from January 5, 2018 through January 24, 2018 through the PetPartners' Animaltarian website at https://www.petpartners.com/animaltarian/2017/entries. The top eight submissions that receive the highest number of votes will proceed to the finalist voting phase.
John Wycoff, President of PetPartners, Inc. and the creator of the Contest said, "Since the Contest's inception in 2014, we are amazed and thrilled at the exceptional candidates who are dedicated to supporting animal welfare. This year is no exception and we wish everyone the best."
To see the list of this year's candidates or to cast your vote, please visit http://www.PetPartners.com/Animaltarian/2017/entries. Official Contest Rules is available at http://www.PetPartners.com/Animaltarian. Additionally, follow Animaltarian of the Year via Facebook at https://www.facebook.com/AnimaltarianOfTheYear throughout the Contest period.
For more information on the Animaltarian of the Year Award Contest or PetPartners pet health insurance, please contact Jeena Choi at 917-882-0960 or Jeena.Choi(at)IHCGroup.com.
#
About PetPartners Inc.
PetPartners provides pet health insurance in all 50 United States, offering products to individuals and groups (such as associations, companies and credit unions). Since 2002, PetPartners has been the exclusive provider of pet health insurance protection to registrants of the American Kennel Club through the AKC Pet Insurance brand. In 2006, PetPartners was selected by the Cat Fanciers' Association, one of the largest registry of purebred cats, to provide health insurance to CFA registrants. Founded by Sir John D. Spurling, a leading British innovator in pet insurance who remains on its Board of Directors, PetPartners became a member of The IHC Group in 2017. For more information, please visit http://www.PetPartners.com.