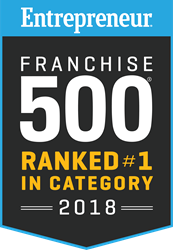 Being named the top staffing franchise for seven years in a row is a huge accomplishment and a testament to the support that our company provides to our amazing franchisees. - Bob Funk, Express CEO
OKLAHOMA CITY (PRWEB) January 11, 2018
For the seventh consecutive year, Express Employment Professionals has been named the No. 1 staffing franchise in the U.S. by Entrepreneur Magazine as part of the magazine's 38th annual Franchise 500® list. The staffing giant is also among Entrepreneur's Top 100 companies.
"Being named the top staffing franchise for seven years in a row is a huge accomplishment and a testament to the support that our company provides to our amazing franchisees," said Bob Funk, CEO of Express and a former chairman of the Federal Reserve Bank of Kansas City. "Express is proud to offer entrepreneurs the chance to pursue their dreams of business ownership with the support of a proven system."
The rankings are based on financial strength and stability, growth rate and the number of years a company has been in business.
Additionally, Express has also been named one of the best franchises to buy among franchises with an investment level less than $150,000, according to Forbes' ranking of America's best franchises.
In 2018, Express celebrates its 35th anniversary and is within reach of having 800 franchise locations internationally. Ultimately, the company aims to have locations in 900 territories.
"Since the company's inception 35 years ago, we have continued to break records on our way to putting a million people to work annually," Funk said. "Express is providing hope through employment in a way that I only could have imagined when I helped create the company in 1983. And with our continued success, we look forward to leading the staffing industry for many years to come."
If you would like to arrange for an interview with Bob Funk to discuss this topic, please contact Sheena Karami, Director of Corporate Communications and PR, at (405) 717-5966.
About Robert A. Funk
Robert A. "Bob" Funk is chairman and chief executive officer of Express Employment Professionals. Headquartered in Oklahoma City, the international staffing company has more than 790 franchises in the U.S., Canada and South Africa. Under his leadership, Express has put more than 6 million people to work worldwide. Funk served as Chairman of the Conference of Chairmen of the Federal Reserve and was also the Chairman of the Federal Reserve Bank of Kansas City.
About Express Employment Professionals
Express Employment Professionals puts people to work. It generated $3.3 billion in sales and employed a record 540,000 people in 2017. Its long-term goal is to put a million people to work annually. For more information, visit ExpressPros.com.