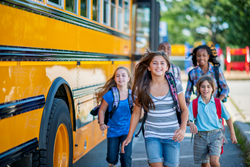 The fact that both video verification and health monitoring integrate with our overall security system is a huge plus. William J. Mullin, Executive Director of School Facilities, Chapel Hill-Carrboro City Schools
WESTMINSTER, Colo. (PRWEB) January 10, 2018
3xLOGIC, Inc., a leading provider of integrated, intelligent security solutions, and a three-time Deloitte Technology Fast 500™ winner, today announced that Chapel Hill-Carrboro City Schools (NC) have standardized on 3xLOGIC hybrid NVRs across their expansive school district.
"This school district has always been ahead of the times, they've had video surveillance and access control in place for 15 years," explained Chuck Harrelson, President, Sonitrol of the Triangle, the integrator and consultant for the district. "School Resource Officers (SRO) consistently rely on the video feeds and controlled access to help them effectively execute their duties."
The district has 23 education and administration buildings, all equipped with a mix of analog and IP cameras. At upwards of 90 to 100 cameras at some locations, Chapel Hill-Carrboro has video from several hundreds of cameras system wide. "The 3xLOGIC hybrid NVRs are great, upon installation we didn't have to take out any legacy analog cameras. Now, when an analog camera fails, we install a 3xLOGIC IP camera. That is so much better than asking the district to write a huge check when we upgraded the system," said Harrelson.
About a year ago, Sonitrol of the Triangle convinced the district to start using 3xLOGIC's VIGIL Central Management(VCM). "Health monitoring (VCM) has been a big help, so many times the SRO or administration person wouldn't notice that a camera or NVR was down, or they would know but neglect to tell us. Then, there would be an incident, and invariably we would not know equipment had been malfunctioning. Now, we often roll a truck and fix the problem before they know they have a problem. This takes the responsibility off the schools and shows us to be pro-active problem solvers," said Harrelson.
After network health monitoring, Harrelson and his team worked to get the district to move toward installing Video Verification capabilities. "We donated 3xLOGIC Multi-Sensor devices to each school and integrated them with state-mandated panic buttons that are monitored by our Sonitrol central station."
"Our goal with the donation of the Multi-Sensor devices was to provide live video verification in the event a panic button is pushed. Such verification can be invaluable information to responding authorities. Also, we're going to be adding more Multi-Sensors to solve the issues of false alarms caused by the challenges of a large facility with so many people coming and going. For example, when a coach comes back with the team late at night and forgets to properly disarm the system, the Multi-Sensor provides live video to our monitoring center to let them know what is causing the alarm. By partnering in this way, we're trying to put the district in the very best position to succeed with their security program and technology."
"On our campuses, video surveillance is a vital part of our overall security strategy, and the ability to have video verification of alarms is an enormous improvement. In addition, with 3xLOGIC and Sonitrol Triangle 'health monitoring' of our network, we have high confidence we'll know immediately when any equipment isn't fully functioning. The fact that both video verification and health monitoring integrate with our overall security system is a huge plus," commented William J. Mullin, Executive Director of School Facilities, Chapel Hill-Carrboro City Schools
About Sonitrol of the Triangle
Sonitrol of the Triangle, headquartered in Raleigh NC, and has an additional office in Greensboro, NC. In business since 1998, they are proud to be ranked in the SDM100 of top security system providers in the US. They also are deeply involved with the nationwide network of Sonitrol Security dealers. Chuck Harrelson, Owner and President, was drawn to the idea of Sonitrol through close association with other Sonitrol owners and the impeccable reputation Sonitrol enjoyed around the country. Our goal was to utilize the unique Sonitrol "Verified Detection" or "Smart Audio" technology which separated Sonitrol from all the other companies in the industry. We combined this with the Sonitrol "Commitment To Service" and our own commitment to provide the highest quality installations, monitoring, and especially customer service. We have grown over the years due to our excellent staff and our overall dedication to those principles.
About 3xLOGIC
3xLOGIC Inc. has been a leading innovator in server and cloud-based security technology for 15+ years. The company is recognized for providing easy-to-use surveillance and business intelligence solutions that seamlessly integrate video, access control, and disparate data such as ATM, Point-of-Sale, analytics, and more.
3xLOGIC's video surveillance solutions are engineered for ease of installation, scalability and affordability combined with a managed services portfolio that enables integrators to effectively evolve from dealers to high-value strategic partners. Follow 3xLOGIC on Facebook, Linked-in, or our Twitter account, and read our latest news at http://www.3xlogic.com
For 3xLOGIC Media Queries:
Bruce J. Doneff
Public Relations
843.476.3022
doneff(at)verizon(dot)net