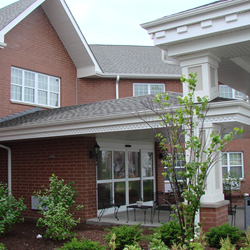 BRADLEY, Ill. (PRWEB) January 10, 2018
Heritage Woods of Yorkville is celebrating 10 years of service to area seniors and their families with an anniversary party from 4:30 p.m. to 7 p.m. on Jan. 11.
"Since the beginning, Heritage Woods of Yorkville has established itself as the premier affordable assisted living community," said Rod Burkett, CEO of Gardant Management Solutions, the company that has managed Heritage Woods since it opened in 2007. "With the opportunity for seniors to live with dignity in their own apartments and receive the assistance they need, we are proud to say we continue to set the standard for assisted living in Kendall County."
Over the past decade, Heritage Woods has spent more than 5 million minutes touching lives and providing love, compassion and care for residents. The community has served more than 500 families since it opened its doors. Heritage Woods also has a significant impact on the local economy and employs nearly 50 people.
Much of the success can be attributed to the people who work at Heritage Woods of Yorkville. During the celebration, the community will honor employees who have been with the community for the past decade, including Dietary Aides Kathy Cech and Gina Jonassen, Dietary Director Susan Smith, and CNA Alma Young.
The residents who have lived at Heritage Woods since the building opened will be recognized as well. Those honorees are Dorothy Aspacher, Mary Ruth Cleary, Estelle Kolarits, Dolores Palshis and Elner Shoemaker.
Heritage Woods of Yorkville combines residential apartment home living with the availability of personal assistance, help with medications and a variety of convenience and support services.
"We provide a wonderful alternative to a nursing home or to struggling alone at home," explained Heritage Woods Administrator John King.
Residents live in private apartments that they furnish and decorate to their tastes. Each of the studio and one-bedroom floor plans includes a kitchenette, spacious bathroom with shower and grab bars, individually-controlled heating and air conditioning, and emergency alert system.
Certified nursing assistants, working under the direction of a licensed nurse, are on-duty 24 hours a day, seven days a week. Meals, housekeeping and laundry are among the included services.
"Residents also benefit from all of the opportunities that are available to socialize with friends and neighbors and participate in activities and special programs," said King.
Heritage Woods of Yorkville is fully certified to operate through the Illinois Supportive Living program. Gardant Management Solutions is the largest provider of assisted living in Illinois and the 12th largest provider in the nation.
For more information about Heritage Woods of Yorkville and Gardant Management Solutions; the assisted living, senior living and memory care communities that Gardant operates; and the company's management, development and consulting services, visit http://www.gardant.com or call 1-877-882-1495.