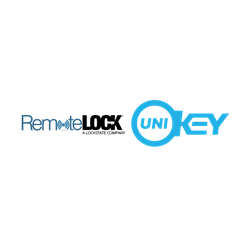 ORLANDO, Fla. (PRWEB) January 16, 2018
UniKey Technologies, world's largest smart access control platform provider, today announced a new partnership with RemoteLock, the leading provider of remote access control software and WiFi locks for vacation rental and small business users. The companies will combine their advanced technologies to bring a new, secure Bluetooth enabled smart lock to the physical access control market, expanding both RemoteLock and UniKey's presence in the commercial space.
RemoteLock, based in Colorado, has been delivering remote access control solutions for customers in the vacation rental, retail, commercial and apartment industries since 2011. The company focuses on convenience and connectivity so owners can remotely manage and monitor access to their properties from anywhere they have an internet connection. RemoteLock has partnerships with leading companies such as Airbnb and HomeAway to provide access to millions of users around the world, and will continue to enhance its solutions through this partnership with UniKey.
The Bluetooth enabled commercial smart lock will be powered by UniKey's patented technology and will feature RemoteLock's advanced hardware design, setting a new standard for smart locks in the commercial industry. With security being top of mind for consumers, the lock will include BLE capabilities with robust credentialing features and a trusted public key infrastructure. This will be the first business Bluetooth lock to use the RemoteLock Connect software that allows property owners and managers the ability to manage one to hundreds of locks on the enterprise software. RemoteLock also offers an Integrated Access Platform Open API, allowing integrators to incorporate access control with their own applications, like scheduling and queuing applications.
UniKey Founder and CEO Phil Dumas states, "This partnership with RemoteLock will help raise the bar for mobile key solutions in the space by continuing the advancements in reliability, convenience, and security." By leveraging UniKey's distinctive mobile key platform, the product will also feature Touch-to-Open® and Inside/Outside Intelligence™, which provide an extra layer of authentication for security purposes and seamless entry for a more intuitive at-door experience.
Nolan Mondrow, CEO of LockState said, "We are excited to add UniKey technology to our RemoteLock smart locks. With this functionality, property owners can manage one to hundreds of Bluetooth enabled locks on the RemoteLock platform".
The BLE enabled smart lock solution is expected to launch in late 2018.
###
About UniKey
UniKey Technologies is the industry leader and pioneer of smart lock and access control platform technology. UniKey provides companies and manufacturers the ability to rapidly develop and deploy smart lock or access control products on a proven, scaled and secure platform. For more information about UniKey Technologies, please visit http://www.unikey.com.
About RemoteLock
RemoteLock develops and sells cloud-based software that controls smart locks. The company also develops wifi lock technologies. LockState's technologies allow property owners in the vacation rental, retail, commercial and apartment industries to remotely monitor and control access to their properties. For more information about RemoteLock please visit http://www.RemoteLock.com.