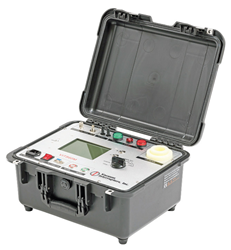 FARMERS BRANCH, Texas (PRWEB) January 11, 2018
Vacuum Interrupters, Inc., an affiliate of Group CBS, has developed the VITS60M vacuum interrupter testing device that performs three test sets for the price of one.
Unlike other vacuum integrity test sets on the market today, the VITS60M not only performs standard go/no-go tests on vacuum interrupters but also includes a 2.5/5/10 kV megohmmeter for Insulation Resistance testing with automated Polarity Index and Absorption Ratio testing routines. Additionally, the VITS60M can serve as a standalone 60 kV DC high-potential (HiPot) test set for most types of insulation testing.
This simple-to-operate set walks technicians through setup, generating a visual go/no-go result for testing the vacuum integrity of vacuum interrupters and the dielectric strength of various vacuum breaker components during regular maintenance while offering fully programmable leakage current thresholds and test durations.
VITS60M features and benefits include:

Safety features with auto discharging, interlock, and safety control button
2.5/5/10 kV standard line-powered megohmmeter
Integrity test, Insulation Resistance test, Absorption Ratio test, and Polarity Index test all in one — lower price, more functions
Tough dual-case design
Operates in 1 kV DC increments
CE certified
Lightweight
Failure indicator LED makes it easy to interpret results (green light: pass; red light: fail)
Available with optional 5-year warranty with loaner service included. Never be down more than a day.
To learn more about the VITS60M or to schedule an on-site demonstration, contact Info(at)VacuumInterruptersInc(dot)com or 214-442-5877.
About Vacuum Interrupters, Inc.
Vacuum Interrupters, Inc., developer of the Magnetron Atmospheric Condition (MAC-TS4) predictive vacuum interrupter and circuit breaker timer (CBT-1201) test systems, provides replacement vacuum interrupters, pole assemblies, and replacement vacuum interrupter parts and components for virtually any manufacturer's medium-voltage circuit breaker or contactor. Vacuum Interrupters, Inc. is a privately owned company based in Farmers Branch, TX. For more information, visit VacuumInterruptersInc.com, or call 214-442-5877.
About Group CBS, Inc.
Headquartered in Addison, TX, Group CBS has affiliated companies throughout the U.S. and an affiliate in the U.K. Group CBS affiliates provide premium products and unparalleled capabilities and services to the industrial, utility, electrical distribution, and repair markets. For more information, visit GroupCBS.com, or call 972-250-2500.