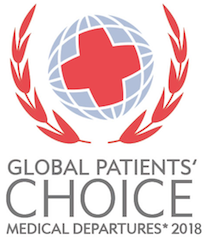 We are always delighted to acknowledge the expertise and standards of our top-performing medical facilities through our Global Patient Choice Awards. It is gratifying to present them with something tangible in recognition of their commitment from those that matter the most – paul McTaggart, CEO
BANGKOK, Thailand (PRWEB) January 12, 2018
Medical Departures, Inc., the global medical tourism company that puts patients in touch with first-class, overseas medical providers, have today announced their annual Global Patients' Choice Awards for 2018. Top-rated medical specialists that have performed consistently throughout the year and have received the highest accolades possible from their patients will be presented with an award.
Along with Dental Departures, their sister company, Medical Departures have a global network encompassing over 2000 hospitals, clinics and medical facilities. They have partner clinics in 33 countries worldwide, with their chief markets based in the Asian Pacific and Latin American regions. Their continued success has seen the operation expanding into Europe, with countries such as Hungary, Turkey and Poland becoming increasingly popular destinations with medical tourists throughout the world.
Based on a recent report, the global medical tourism market will continue to expand and is anticipated to hit USD $160.8 billion by 2025, representing a compound annual growth rate of 14.9%. The rising costs of medical treatments in the United States and Europe are driving patients to seek more affordable alternatives. With the highly-developed tourism infrastructure that already exists throughout the Latin American region, countries such as Costa Rica, Colombia and Mexico continue to attract increasing numbers of medical tourists looking for effective, low-cost medical treatments.
Medial Departures partners medical facilities with a proven track-record and continues to extend its markets in new territories, as well as consolidating its presence in existing markets. Founder and CEO Paul McTaggart explains: "We are always delighted to acknowledge the expertise and standards of our top-performing medical and dental facilities through our Global Patient Choice Awards. It is gratifying to present them with something tangible in recognition of their commitment from those that matter the most – their patients."
The Medical Departures Global Patients Choice Awards reflect the overall performance and general customer service delivered by each of their clinics throughout the year. Every patient is invited to provide an honest appraisal of their experience, providing feedback in areas such as the quality of the facilities, the standard of their treatment, and the overall performance and attitude of the personnel.
To qualify for an award, a clinic must maintain a minimum average rating of 4 stars out of 5 during the course of the year. This way, smaller operations providing top-quality treatments can be just as likely to gain recognition for their efforts as the bigger, internationally-recognized medical chains. Past winners have found the award an effective tool in promoting their quality services through local media outlets, on their own websites and in their clinics.
With partner clinics throughout Latin American, Medical Departures are ideally placed to put patients in touch with top-quality doctors in Mexico, Colombia, Costa Rica and many other globally-recognized tourist hotspots. Mexico is popular with overseas patients due to its close proximity to the US border, Joint Commission International (JCI) accredited hospitals and affordable prices. The biggest draw for international patients is, undoubtedly, the cost. Most medical procedures are available for between 60%-70% less than in the US which, on a costly procedure such as a Breast Augmentation, equates to savings that run into thousands of dollars.
To ensure that patients receive the best medical care possible, partner clinics associated with Medical Departures have been pre-screened to verify the legitimacy of doctor qualifications and professional memberships. Site visits are also carried out to assess each facility and to check that all health, safety and hygiene protocols adhere to strict international standards.
Based on patient feedback, the following Latin American doctors and medical facilities have all performed to the highest standards and are in the running to receive a Global Patients' Choice Awards, 2018:

View the full list of Latin America winners for Medical Departures' Global Patients' Choice Awards 2018 at https://www.medicaldepartures.com/global-patients-choice/2018/
About Medical Departures
Medical Departures are an established medical tourism provider that specialize in delivering effective, affordable treatments to international patients looking for affordable, top quality healthcare solutions. Offering a comprehensive range of aesthetic, cosmetic and medical services that include both surgical and non-invasive procedures, their easy-to-use online portal allows patients to quickly compare prices, check out doctor profiles, view on-site photographs and read patient reviews. Other benefits available through Medical Departures include preferential rates on additional medical insurance, travel and accommodation package deals and an exclusive best price guarantee scheme.