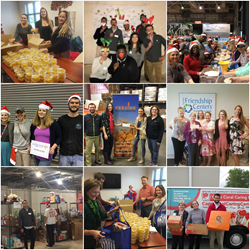 "I'm proud of the amount of donations we were able to make in 2017," says Dave Owens, President of Midland IRA, "I hope we can make an even larger impact in 2018."
FORT MYERS, Fla. (PRWEB) January 12, 2018
Midland IRA, headquartered in Fort Myers and Chicago, donates almost $19,000 to several charities during 2017. The donations helped 15 organizations last year.
Midland IRA makes regular donations to the local community and other areas in need. The staff is given the opportunity to choose charities and organizations to donate to and volunteer at throughout the year. Last year the nationwide self-directed IRA administrator made donations to the Boys and Girls Club of Chicago, Southwest Florida Community Foundation, Champions for Children, Chicago Police Memorial, Americares, American Red Cross Hurricane Relief, UNICEF, Phillips Family Hurricane Relief, University of Florida Charities, Senior Friendship Center, and Meals for Hope food drive. Through Midland IRA's employee donation community fund, Midland IRA donated to Wreaths Across America, Cape Coral Caring Center, and to Puerto Rico for hurricane relief. Midland Trust Company, Midland IRA's trust Custodian located in South Dakota, made a local donation of $2,500 to the Feeding South Dakota Food Bank.
Midland IRA recognizes the importance of giving back to charities and makes an effort to do so on a regular basis. "I'm proud of the amount of donations we were able to make in 2017," says Dave Owens, President of Midland IRA, "I hope we can make an even larger impact in 2018."
Midland IRA will continue to make donations and will volunteer frequently in 2018. To learn more about the self-directed IRA administrator and 1031 exchange Qualified Intermediary, visit www(dot)midlandira(dot)com.
About Midland IRA
Midland IRA is a self-directed IRA administrator that provides tax-deferred and tax-free investment opportunities, superior customer service, and educational tools to assist investors in realizing the maximum benefits possible within IRAs. Midland IRA makes it easy to use self-directed retirement plans to invest in assets that the individual investor knows, understands, and can control. Midland IRA is also a 1031 exchange qualified intermediary. To learn more visit www(dot)MidlandIRA(dot)com.