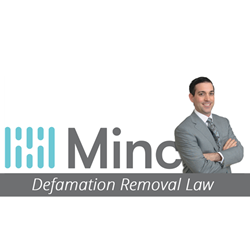 The first law firm in the world that is exclusively dedicated to the niche area of Internet defamation law
CLEVELAND (PRWEB) January 12, 2018
Minc LLC provides a range of services for individuals and businesses that need help with online harassment and defamation. Minc LLC' nationally recognized attorneys provide unique and cost-effective solutions for problems relating to internet defamation, cyberbullying, online harassment, revenge porn, violations of privacy, online investigations, and negative content removal.
Minc LLC is the first law firm in the world that is exclusively dedicated to the niche area of Internet defamation law. Clients receive the most specialized and highly experienced representation to resolve online attacks. The primary goal of the firm is to put an end to harmful harassment and online reputation attacks as quickly as possible by removing the damaging content, identifying the anonymous offenders, and obtaining compensation and damages.
Minc LLC's team of attorneys have a very high success rate in removing damaging online content. Aaron Minc and his team have a proven record in securing favorable verdicts in jury and bench trials, and have litigated Internet defamation lawsuits in over 20 different US States, and three countries. They represent clients from across the United States and around the world. Minc LLC attorneys also work closely with a network of reputation management companies, PR experts, and investigative cyber security experts to give clients a full range of options to monitor, identify, prevent, mitigate, and resolve online attacks.
Areas of Representation:

Internet Defamation
Content Removal
Online Investigation
Online Reputation Management & Repair
Cyberbullying & Online Harassment
Revenge Porn & Privacy