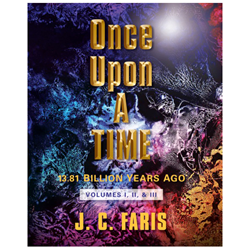 "Within this book we thoroughly examine the new relationship of creation brought about by the Big Bang and all that ensued, from the minute to the massive – atoms, moons, planets, stars, galaxies, black holes, the whole of the universe," says Jeff Faris
Indianapolis, IN (PRWEB) January 11, 2018
J.C. Faris explores the creation of the universe from a unique perspective, merging the tenets of Christianity with scientific theory, in the recently published Once Upon A Time 13.81 Billion Years Ago (http://www.onceuponatime1381.com).
The book takes an extensive look at the universe's beginning and formation, going back those 13.81 billion years to slightly before the Big Bang.
"Within this book we thoroughly examine the new relationship of creation brought about by the Big Bang and all that ensued, from the minute to the massive – atoms, moons, planets, stars, galaxies, black holes, the whole of the universe," says Faris. "Because religion addressed the creation centuries before science, our endeavor includes religion as well. Our ultimate goal is the unified perspective of the creation from both science and religion."
Faris takes his readers on a remarkable journey, presenting evidence and bringing them to an epiphany.
"It will confirm what your inner consciousness has always known but could never find a way to express," Faris says.
Faris engages readers in different ways throughout the book. For example, he gives them quizzes and readers can respond with their answers to the book's website and try to win prizes. He also encourages readers, at the conclusion of each chapter, to express their thoughts about the content, whether they agree or disagree and why, and invites them to give their own take regarding the chapter they just read.
Faris says one analogy of his book "is that we are/will be looking at the whole forest and the importance of the bigger picture, and not just the individual trees."
About J.C. Faris
J.C. Faris is the author of Once Upon a Time 13.81 Billion Years Ago (http://www.onceuponatime1381.com), an examination of the universe, its creation and how it all works from the perspectives of both religion and science. A graduate of Ball State University with a B.S. in anthropology, Faris did graduate school work in biology, chemistry and human anatomy at the University of Louisville. A man with diverse interests, he's a former U.S. Army officer, has owned large businesses and has been a guest instructor at Ball State, a frequent speaker and TV guest, and hosted a weekly radio show.