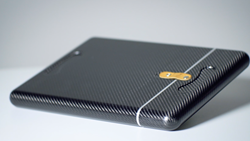 We are launching on Kickstarter to not only give those who value their laptops' the protection they always wanted, but also to finance our first production for the last laptop case you will ever have to buy. It is functional, very user friendly, luxurious looking and fancy.
SAN FRANCISCO (PRWEB) January 11, 2018
C6SHELL, the revolutionary new bulletproof carbon fiber laptop case that promises to last a lifetime, is live on global crowdfunding platform Kickstarter and raising funds to bring the project to life.
The C6SHELL is the most protective laptop case ever created. The C6SHELL has been engineered to survive the test of strength and time, while remaining compact, stylish and practical for daily use. Simply put, this is the last laptop case users will ever need to purchase.
"We have all dreaded the moment we witnessed other passengers putting their luggages in the overhead compartment of the plane. We worried whether the bags being shoved in could possibly damage our laptops and cause us misery. While on a flight, we found ourselves panicking to remove our laptops from our backpacks after witnessing a fellow passenger struggling to fit her bag in the overhead compartment," says co-founder Mark-Ethan Jermain on the inspiration behind the project. "At that moment we wondered whether a laptop case existed, that could fit in virtually every existing backpack or bag and absorb any shock without damage. It was birth of the idea of C6SHELL. During the design and prototyping phase, other important members joined the C6SHELL team, to make the product a reality."
The C6SHELL is comprised of carbon fiber, aluminum, and leather. The design renders the C6SHELL incredibly lightweight while also remaining completely bulletproof. The interior cushion also protects the laptop from all scratches. The case is 10 times stronger and 5 times lighter than raw steel, making this the most protective laptop case ever created. To prove its strength, the company has conducted several tests literally running over the case with a car and the laptop has remained unscathed every time.
The C6SHELL is launching in two sizes and two colors for the Kickstarter campaign, though the company has plans to later offer additional colors and sizes. The current two sizes fit the MacBook Pro and MacBook Air 13" and 15" models, respectively, as well as all laptops from other makers with the same dimensions. 
"Our case is entirely handmade of real carbon fiber, it is the 'peace of mind' you can enjoy for a decade, yet pass it along, intact, to someone else.  Making every case by hand means high-production costs," says co-founder Mark-Ethan Jermain. "We are launching on Kickstarter to not only give those who value their laptops the protection they always wanted, but also to finance our first production for the last laptop case you will ever have to buy. It is functional, very user friendly, luxurious looking and fancy."
The C6SHELL is currently live and available to support on Kickstarter: http://kck.st/2miOdhl
About C6SHELL
The ultimate, lightweight, bullet proof laptop case ever made. Nothing will protect your laptop when it falls, unless it has a C6SHELL. For more information on C6SHELL please visit: https://www.facebook.com/C6shell/