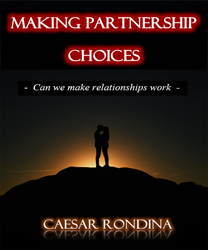 A pre-release independent book review wrote;"Making Partnership Choices will certainly be one of the most controversial and talked about reading for 2018." - C.K.
NORTH HAVEN, Conn. (PRWEB) May 02, 2018
Making Partnership Choices is now available through all major online bookstores. In this unique romantic storyline, Caesar Rondina explores every part of relationships. Answering every question and more. Is there hope for relationships? Is there life after a bad relationship? Recent studies show that 40-50% of first-time marriages end up in divorce in their first year. 60 - 65% of all second marriages end in divorce, and 72% of third marriages share the same fate. In this writing, Caesar Rondina will reveal the hard cold facts, truth, and reality, as to why these percentages are so high.
By virtue of human nature, people want to be in a relationship at some level. Studies show that most adults admit that they do not know how to cope with their relationship problems, and they do not know why they keep making the same mistakes. All of this and more is explained. The path to fixing and repairing these issues will be clear. Caesar Rondina states, "Romance doesn't die, people kill it," and, "Relationships don't end, people end them." Why do relationships fail or succeed? Why do some go back to those who constantly hurt them? Most importantly, how do we fix it, as well as the one we have. All these questions and more will be answered. Questions most don't realize they have. True stories, experiences, data, and humor are intricated into this storyline. Caesar Rondina states, "The reader will travel down the path from their beginning to their adulthood. The key point being, "There is life after a bad relationship. It's not always your fault."
Facts, truth, and reality, define what we have. Caesar Rondina states, "It's not important how it got broken, it's only important that you know how to rebuild it in order to fix it. We live in a disposable world. A world where things are discarded rather than repaired. Why do we put such a low value on life?" Find out in Making Partnership Choices.